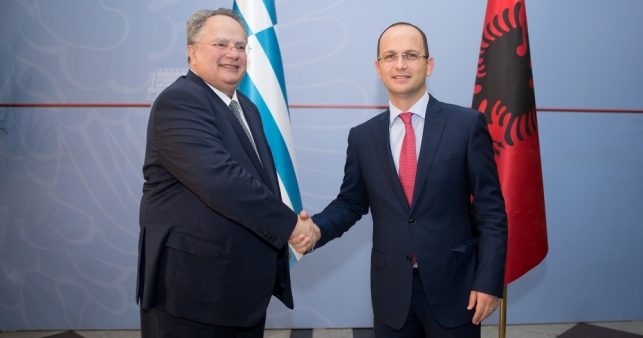 Athens, May 30, 2016/Independent Balkan News Agency
By Spiros Sideris
"A Cham "issue does not exist" and "the repeated shaking of a non-existent issue by the official Albanian authorities is far from helping our bilateral relations", answer Foreign Ministry circles to the Albanian Foreign minister Ditmir Bushati, who in a recent television interview in Albanian TV station "Top Channel" made reference to the existence of a "Cham" issue.
"During the occupation by the Axis powers" as is pointed out by the same sources "the Chams collaborated with the fascists and Nazis occupiers and left Epirus on their own accord, as a group and finally, following the hostile forces".
In an interview with TV channel Top Channel, the Albanian Foreign Minister described the relation between the two countries as very good, which he said "are now based on reciprocity and fair and responsible dialogue between the two neighbours, NATO members, aspiring to common European future and which respect each other, the constitutional traditions and, of course, comply with the standards that have as inspiration the international law".
"Although divided into three chapters, the issues are related. If we talk about abolishing the belligerents from Greece, this is related to the revision of history textbooks, the issue of Albanian property in Greece. It is also associated with the reverence for the Greeks who fell in the Albanian territory, because the war must end, in order for all the other processes to begin", Bushati said.
"The removal has immediate political and legal values, and the address of the Cham issue as a fundamental issue of human rights and freedoms in accordance with international standards that will foster a climate of trust between our two countries", added the Albanian minister.
The statements of the Albanian Foreign Minister come a few days before the SEECP Summit to be held in Sofia, Bulgaria May 31 – June 1 and the visit of Greek Foreign Minister Nikos Kotzias in Tirana, June 5-7, which burdens the good atmosphere that exists in the relations between the two countries.