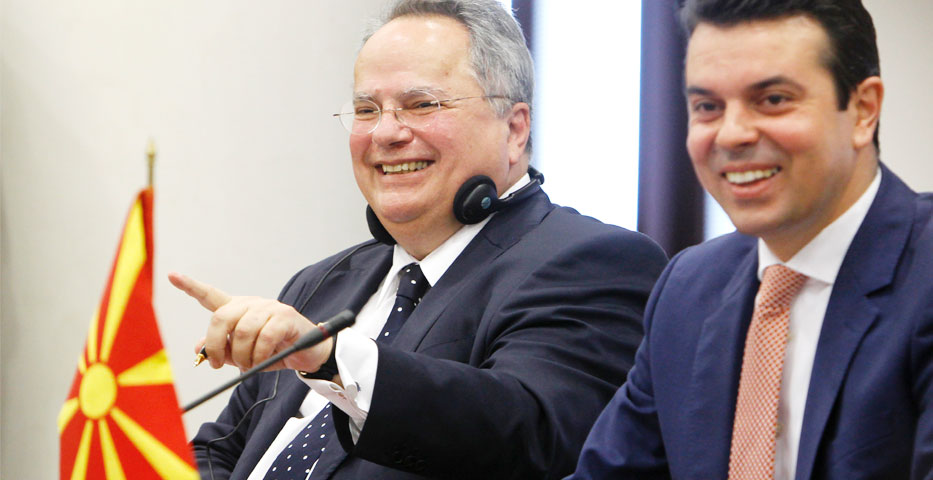 Greek Foreign Minister Nikos Kotzias will be in Skopje on Thursday to return the visit of Nikola Dimitrov, who had visited Athens last June, following an invitation from the Greek Foreign Ministry.
It is the third visit of the head of Greek diplomacy to Skopje, with the first in 2015, when he visited all the capitals of the Western Balkans, on a first trip of acquaintance and cooperation with the neighborhood of Greece.
On 25 August 2016, Nikos Kotzias visited Skopje for the second time, during which, apart from his contacts with political and state leadership, he also spoke to FYRO Macedonia's diplomatic academy.
A little over a year later, the Greek Foreign Minister visits Greece's Northern Neighbour again. Only this time there is a new government after about a year of political instability, with the hope and willingness to find convergence on a number of issues that test and link the two countries' relations.
Following the very successful meeting, according to IBNA, held in Athens between the two countries' delegations on the Memoranda of Understanding (MoU), Nikos Kotzias and Nikola Dimitrov's counterpart will "update" the progress of the MoU, but also their enlargement, which involves a series of initiatives in sectors of almost 10 ministries.
According to IBNA, the MoU will occupy the biggest part of the discussions of the two Ministers and their delegations, while there will be discussions on regional and international developments, as well as exploration of intentions for the nomenclature.
During his previous visits, Nikos Kotzias had contacts and talks with both the President, the Prime Minister, the Speaker of the House, the Foreign Minister and the heads of the parliamentary parties.
So far, IBNA's information from Skopje does not confirm the arrangement of meetings, either with House Speaker Talat Xhaferi or VMRO President Nikola Gruevski.
IBNA sources from Skopje report that there is skepticism in Zoran Zaev's government for the meeting of the Greek Foreign Minister with the Albanian Parliament Speaker Talat Xhaferi, without any clear mention as to the reasons for this skepticism./IBNA