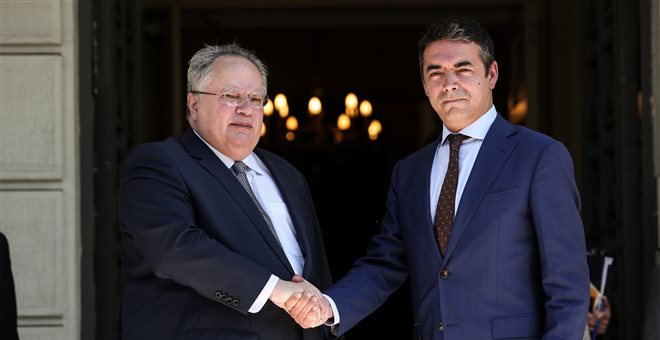 Nikos Kotzias will be in Skopje on 31 August on an official visit to FYRO Macedonia.
According to IBNA information, the Greek Foreign Minister will travel by road from Thessaloniki to Skopje on 31 August. He changed his program for security reasons and he will stay overnight on August 30 in Thessaloniki. On August 31 he will hold a series of contacts with the leadership of FYRO Macedonia, President Gjorge Ivanov, Prime Minister Zoran Zaev, Foreign Minister Nikola Dimitrov as well as leaders of the FYROM parties.
Nikos Kotzias' visit to Skopje has a rewarding nature, following his counterpart's visit in Athens in June.
According to IBNA, during the visit of the Greek Foreign Minister to Skopje, discussions will revolve around the bilateral relations of the two countries, as well as the recovery of confidence as there were no shortage of provocations on FYRO Macedonia's part.
The ire of Greek diplomacy was apparent as there were tough announcements from the Foreign Ministry, stating that the Interim Accord of 1995 is systematically being violated by FYRO Macedonia.
The first announcement of the Foreign Ministry was about the withdrawal of the National Youth Handball Team from a match with FYROM at the Pan-European Championship in Skopje.
"According to the Interim Accord of 1995, FYROM can join international organizations only under its provisional name. We witness once again that FYROM, after gaining membership in an international organization, is attempting to violate the Interim Accord and participate under its constitutional name", the statement said.
The second announcement came on the participation of fYROM's Consul General in Toronto in an irredentist event.
"We condemn the participation of FYROM's Consul General in Toronto, Jovica Palacevski, in an irredentist event, and the participation that constitutes another violation by the FYROM of the Interim Accord, which requires abstention from any action supporting territorial claims.
The backdrop of the platform from which Mr. Palacevski addressed the participants of this event with the irredentist symbols and a map of fYROM that included the Greek territory.
FYROM's new government claims that it aspires to a new beginning in its relations with Greece. However, despite the change of leadership, it seems that irredentism continues to be the dominant state of the ideology and day-to-day political practice in our neighbouring country.
The renunciation of irredentism, respect for borders, and practical compliance with the principles of good neighborlyness are necessary conditions for the realization of FYROM's Euro-Atlantic aspirations", the Foreign Ministry's announcement said.
In a heavy climate in the two countries' relations, the Greek side will, according to valid information, exhibit a constructive stance by enhancing the MoU, aiming at their greater contribution to the good neighborly relations of the two countries. The MoU was an initiative of Greek Foreign Minister Nikos Kotzias during his first visit to Skopje in the summer of 2015./IBNA