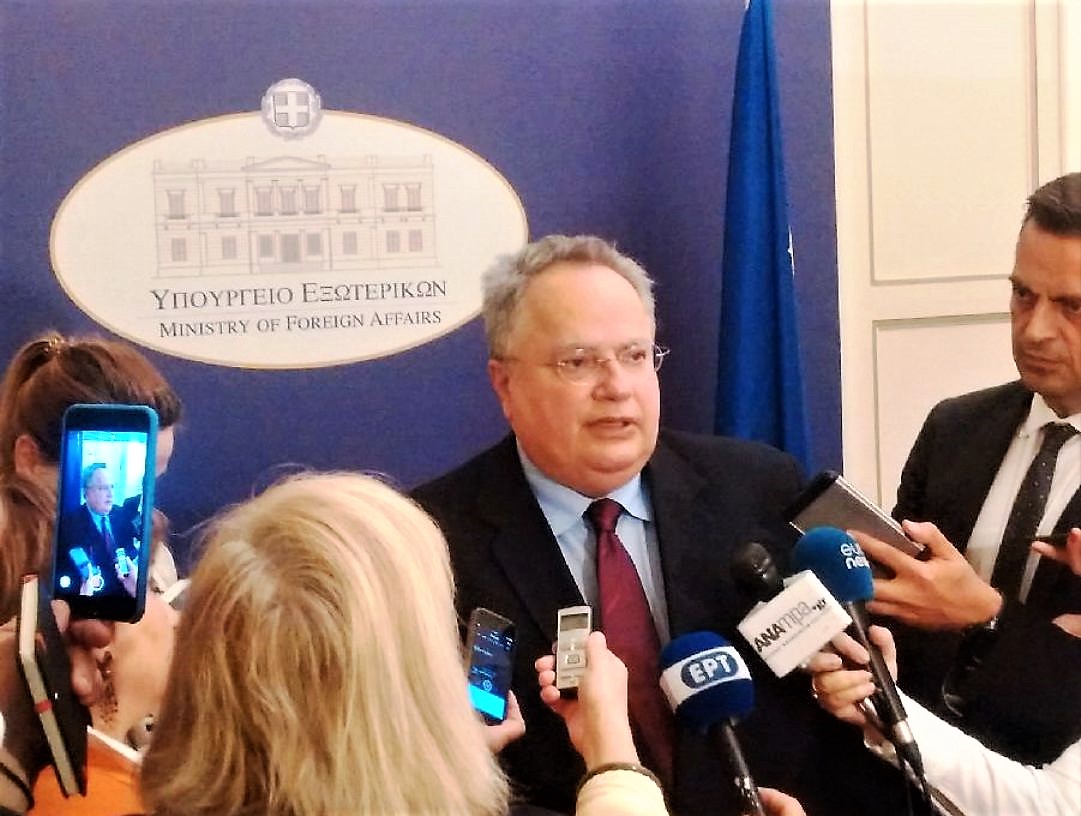 In statements after the conclusion of a two-hour meeting with the Special Envoy of the UN Secretary-General on the Cyprus, Espen Eide, Greek Minister of Foreign Affairs, Nikos Kotzias, urged Turkey to "be wise enough to discuss with us so that we can prepare a Geneva International Conference on the security of Cyprus and its release from the 1960 treaties of Zurich and London, the guarantees and the so-called Alliance".
The issue of guarantees and security, as Mr. Kotzias made clear, is one that "is linked to the necessity and the requirement that Turkey understands that it must withdraw its troops from Cyprus and that it can not have invasive rights on the island".
"Unfortunately, Turkey," the Foreign Minister added, "continues to project its own needs and not the needs of both communities and the country's three minorities. Unfortunately, Turkey continues to raise demands such as the so-called issue of the four freedoms concerning its relations with the EU and not the Cyprus problem; but Turkey has never responded specifically to the proposals we have tabled on how to regulate the international aspect of the Cyprus issue, and simply refuses to discuss this issue with us."
In this context, Mr. Kotzias said that "Turkey should stop seeing the Cyprus problem as a matter that serves its geopolitical interests or interests vis-à-vis the European Union. It must accept that Cyprus must be transformed and live as a normal state that is a member of the EU and the UN".
Eide: We are not abandoning the effort
UN Special Envoy, Espen Barth Eide, provided assurances from Athens that he is continuing the effort to find common ground for the international conference on the Cyprus issue in Geneva. "It is an ongoing process, it is not easy, but we do not abandon it," he stressed after the two-hour meeting he had with Foreign Minister Nikos Kotzias, which he described as constructive and very useful. That is why, he said, shortly afterwards he will go to Ankara to continue his efforts there.
"We have to be prepared because it is an international issue, but the final decision will be taken in Cyprus by the two leaders, on whether they intend to find a common platform for a new Geneva Conference," said Eide, pointing out that this is his priority now: "We are focusing not so much on the substance but on how we organize, what will be the agenda, because there are political difficulties," he added.
"We at the United Nations are ready, I feel that the guarantor forces are ready in principle, as was the case last January, there have been more thoughts on the issues concerning the guarantor powers, namely security and guarantees. But we are not there yet" he said.
Mr Eide also clarified that "it is a continuing debate, but of course we will not proceed to an international conference on the Cyprus issue without the will of the two sides in Cyprus", noting that this "is a parallel process with the work we are doing Nicosia"./IBNA