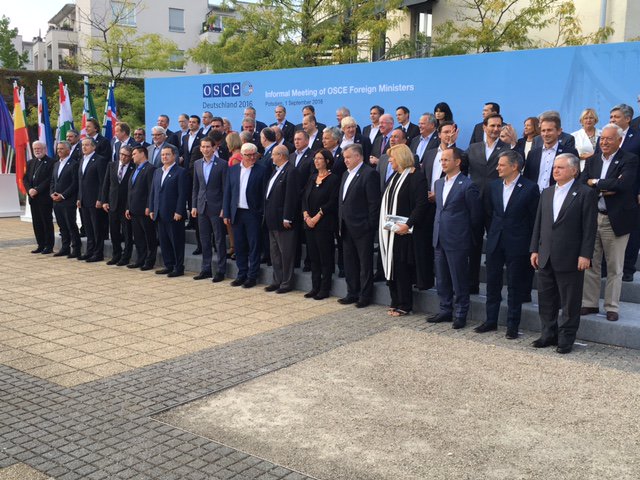 Potsdam, September 2, 2016/Independent Balkan News Agency
By Spiros Sideris
At a time when the Organization for Security and Cooperation in Europe is trying to find its footing and be reactivated by maintaining dialogue on major European issues regarding Safety, on Thursday, September 1 in Potsdam there was an informal meeting of the Foreign Ministers of the Organisation, in which took part the Greek Foreign Minister.
In his intervention during the meeting, Mr Kotzias referred to the need for the separation of International Organizations and to adopt for common issues that concern them, a different approach and a different perspective. At the same time, he denounced the logic of some of his colleagues who instead of defending the Organisations's dialogue acquis chose to make monologues.
According to information of IBNA, Nikos Kotzias said that NATO, which is the hard power, uses weapons, weapon systems and equipment as its means. The EU on its part hand, as soft and smart power, works with the rules of law. The OSCE operates on the basis of dialogue and respect, much like the EU, but tries to block the armaments efforts and proceed with disarmament.
"As such, it makes no sense to repeat the same things in all three organizations, because it does not help its function to have the same speeches, such as was the case a few minutes ago when we heard a speech that was made two months ago in NATO", stressed the Greek FM, according to information.
Unfortunately, Mr Kotzias continued,  colleagues ministers come with prepared speeches which they read and so we have declarations rather than dialogue, hence this explains why instead of two minutes according to the regulation, everyone spoke between 10 minutes and a quarter. There is no dialogue and it makes me wonder why I come: I could just send you a speech to the read by someone and save myself the trip.
Urging his colleagues, he stressed the important initiative of chairing Foreign Minister F. W. Steinmeier who tried to table some questions, but in the end everyone insisted on reading what they had prepared. Finally, there is need in such multilateral organizations, where we are always the same faces, for discussion to be structured with the central questions. There is need for questions to be heard, place priorities and prioritize, Nikos Kotzias commented.
There is the need for a system of trust and compromise culture in the OSCE, Mr Kotzias noted. We can not build trust when we read written statements and do not pay attention to each other's thoughts and proposals.
Continuing his intervention, the Greek Foreign Minister also stressed that it should be understood that while NATO's job is to prevent the Russians, as they say, our job is to create an architecture of security. Do not forget that even in the toughest days of the Cold War and the Soviet Union – West conflict we went to Helsinki and built a security architecture structure, the product of which is this organisation.
We have to see if and how we can create a security architecture. To NATO I say – Nikos Kotzias continued according to information – you want security without Russia, while I want Russia to be part of this security.
The last thing he pointed out is that the OSCE can help create a structure, an architecture such as the OSCE – in the same standards – in the Eastern Mediterranean and to see if we can create a form of security and arms control and disarmament of the region.