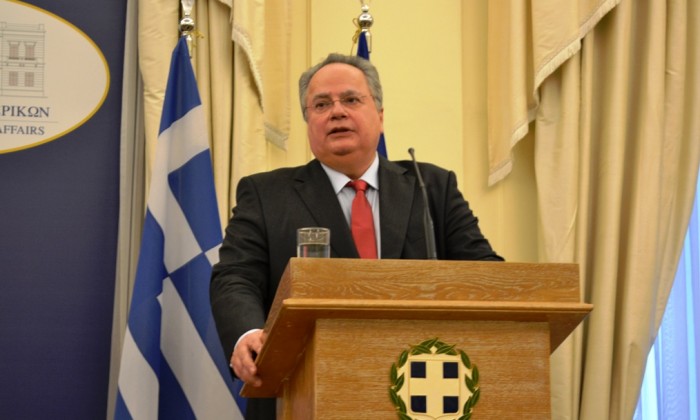 The Minister of Foreign Affairs, Nikos Kotzias, will take part in Foreign Affairs Council of EU on Monday, January 22, in Brussels.
The Council, chaired by the EU High Representative for Foreign Affairs and Security Policy, Federica Mogherini. The Foreign Affairs Council will start with a discussion on current affairs, allowing ministers to review pressing issues on the international agenda.
Foreign ministers will discuss the future of the EU partnership with African, Caribbean and Pacific states. The current partnership agreement, known as the Cotonou Agreement, will expire in 2020.
The Cotonou Agreement is the overarching framework for EU relations with African, Caribbean and Pacific (ACP) countries. It was adopted in 2000 to replace the 1975 Lomé Convention.
It is the most comprehensive partnership agreement between developing countries and the EU, covering the EU's relations with 79 countries, including 48 countries from Sub-Saharan Africa.
The Cotonou Agreement aims to reduce and eventually eradicate poverty and contribute to the gradual integration of the ACP countries into the world economy. It is based on three pillars:
Development cooperation
Economic and trade cooperation
Political dimension
The Council will review the situation in Libya, following the meeting of the joint migration task force with the African Union and the UN on 14 December 2017.
The discussion will feed into the preparations of the 4th Quartet meeting at the end of January. The Quartet supports the UN-facilitated political process in Libya. It brings together the EU, the UN, the African Union, and the League of Arab States.
Also Ministers will exchange views on the latest developments in the region. In the margins of the Council meeting, EU foreign ministers and the High Representative will have an informal lunch with President Mahmoud Abbas, President of the Palestinian Authority. They will discuss the peace process, bilateral relations and regional developments.
Finally, on the margins of the Council, a working breakfast of EU foreign ministers will be held with the President of the European Investment Bank, Mr W. Hoyer./IBNA