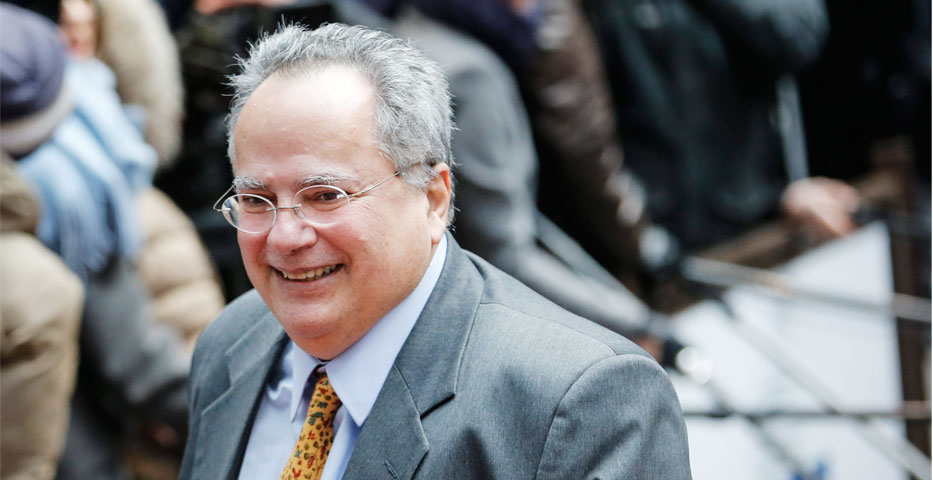 Tehran, November 27, 2015/Independent Balkan News Agency
By Spiros Sideris
History, geopolitics, economy unite Greece with Iran
Greek Foreign Minister Nikos Kotzias is on an official two-day visit to Iran. The Greek minister is accompanied by deputy Foreign Minister who holds the economic diplomacy portfolio, Dimitris Mardas, deputy Minister of Inductry, Theodora Tzakri and a delegation of Greek businessmen.
Iran is now perhaps the best example of the new "multidimensional" foreign policy pursued by Greece.
It is no coincidence that Athens's carefull outreach to Tehran since the beginning of 2015 and criticism from many quarters at home and abroad provided the opportunity for the Foreign Minister, Nikos Kotzias, to say the following in his very first appearance at the Parliamentary Standing Committee on Defense and Foreign Affairs on March 18th, 2015:
"I ought to clarify this. We have good relations with Iran, we talk. These relations don'teliminate the embargo and sanctions exist, these are perceived by Iran, but all other possibilities are exploited. There is also the fact that some have started to talk and I would like to make an appeal: It cannot be strange for Anastiasiadis to go from Cyprus, or the Greek Foreign Minister to go to Russia, or someone to speak in Tehran and for us to believe we have departed the West when all westerners go and fool us… I have said these things to our western allies too. It cannot happen. We are clearly a western country, which belongs to western institutions and has the fortune to be at the place it is, but this doesn't prevent us, we actually ought to open relations with all other powers and open up these relations based on the interests of our country and the interests of the EU as we see them, not as seen by one capital or another".
Indeed for several months, long before the successful conclusion in the middle of last July of the long negotiations on Iran's nuclear program, many countries and business groups in the West had begun to open up channels of cooperation with Tehran. Greece had every right – and interest – to do the same. And was vindicated for its selection.
Now, the relations between Iran and the West, since July 14 onwards, are being restored rapidly and Greece would be at an unfavorable starting position today where it not been for the very successful visit of the Iranian Foreign Minister in Athens on May 28 and the warm meeting of the Greek and Iranian Foreign Ministers in New York at the UN General Assembly on 29 September.
The visit of Foreign Minister N. Kotzias to Tehran (28-30/11) is the culmination of a carefully planned strategy, preparing the ground for the visit of the Greek Prime Minister to Iran in early 2016.
The ties over millenia of the two peoples is the solid foundation for building bilateral relations. "We do not have age-old quarrels, I mean the last 500-1000 years, with Iran, we need to capitalize on this", "it is a country of great civilization and glorious history, a friendly country with which we are linked with bonds lasting centuries and millennia" N. Kotzias had said in public statements.
The modern geopolitical aspect and business are now added to this background.
The Greek Foreign Ministry sees with satisfaction the progress made by internal processes in Iran for the approval and ratification of the agreement on its nuclear program and looks forward to the speedy implementation, in order to have a complete lifting of sanctions. The aim of Athens is to utilize the the robust historical background of its relations with Tehran but also with the entire Middle East, and to become a bridge between Iran and the European Union and the West in general.
It is remarkable and not coincidental at all that Foreign Minister's trip to Iran comes just two days after the visit of Tsipras and Kotzias to Israel. "The Middle East trusts us and believes us, precisely because we are an honest broker between different parties. I would say that probably we are one of the few countries that have friendships with everyone, we have a friendly relationship with Palestine, we have a friendly relationship with Israel, we have a friendly relationship with the UAE, we have a friendly relationship with Iran. This is our success" the Greek Foreign Minister sais at the recent conference in Athens on religious coexistence in the Middle East.
Only benefits can be reaped by Greece from this attitude while the wider region of the Middle East / North Africa is facing particularly critical situations in the field of security and while the terrorist actions of the ISIS beats at the heart of Europe too.
The cycle of blood in the region has caused, inter alia, a serious humanitarian crisis that in turn led to unprecedented flows of refugees to Europe. Greece, a host country of most of these refugee flows, is particularly interested in the restoration of peace in the Middle East and recognizes the leading role that Iran can play on regional security generally, and particularly in the fight against ISIS.
Business is now added to the historical backgroung of the Greek-Iranian relations and their contemporary geopolitical aspect.
The expected lifting of sanctions against Iran opens many significant business opportunities and Greece is thirsty for foreign markets. Mr. Kotzias was accompanied on his visit to Tehran – beyond the deputy Foreign Minister responsible for international economic relations Mr. Dimitris Mardas – by Industry Minister Ms. Th. Tzakri – and a very sizeable for a Foreign Ministers' trip delegation of prominent Greek business representatives:
AEGEAN, ELPE, VIOHALCO, J & P, METKA, G.MOUNDREAS, SINGULAR LOGIC, SEASOFT, OLYMPIA_XENIA, SABO, AIALM, LOUFAKIS, DEMO, VIANEX, METRON, SALFO, YIOTIS as well as SETE and the Experimental Workshop of Vergina.
Equally important is the fact that economic and business cooperation between Greece – Iran will be at the heart of the conference entitled "Iran-Greece Forum: Undiscovered Opportunities" held in Tehran Monday, in the presence of the Greek government and business delegation.
On the business side too Athens has with very specific and critical objectives:
Enabling cooperation in the energy sector – Greece is interested in resumption of oil supply, sale of processed oil products, export of photovoltaic systems, refining of Iranian crude oil at Greek refineries and oil transportation from the Greek shipping fleet. There is also Greek interest for exporting gas to Europe using Greek ships when an Iranian export LNG station is constructed.
Increasing exports of Greek products to the Iranian market (i.e. processed foods, pharmaceuticals, building materials, software, catering services).
Facilitating Greek construction companies to undertake infrastructure projects in Iran (i.e. port facilities, roads, power plants).
Exploitation by Iran of investment opportunities offered by Greece in many areas (i.e. real estate, pharmaceuticals, tourism).
Development of tourist flows and training of Iranian tourism executives in Greece.
Expanding bilateral cooperation in other areas where there is increased Iranian interest such as real estate services, aquaculture and transfering agricultural know-how.
The visit is expected to give new life and a real momentum to Greek – Iranian economic relations by strengthening the institutional framework of bilateral cooperation at intergovernmental level. The tone will be set by the reactivation of the political consultation mechanism between the two foreign ministries at senior official level, with both sides already working on the relevant Memorandum of Understanding.
Finally, characteristic of Athens' will for a rapid upgrade of Greek – Iranian economic relations is the fact that apart from Mr. Zarif, the Greek Foreign Minister will meet with both the Iranian Oil Minister Mr. Zanganeh and with Iranian Minister of Transport and Infrastructure Mr. Akhoundi. On Sunday 29/11 he will meet with President Rouhani, while a little earlier, Mr. Kotzias will speak at the Department of International Studies of the University of Tehran.