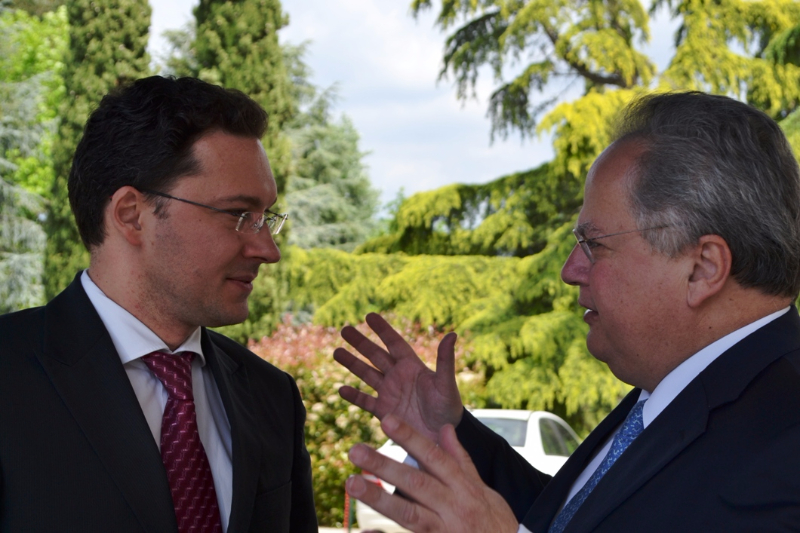 Sofia, May 31, 2016/Independent Balkan News Agency
By Spiros Sideris
Greek Foreign Minister Nikos Kotzias is in Bulgaria to participate in the meeting of Trans-Balkan Cooperation, in the framework of the South-East European Cooperation Process (SEECP). On Tuesday, Mr Kotzias will participate in the meeting of the Foreign Ministers of SEECP, which will be held 60 km north of Sofia in Pravets, while on Wednesday he will be in Sofia, where he will participate, representing Greece, in the summit of the Heads of State or Government of the Member – States of SEECP.
The SEECP was created in 1996, with Greek and Bulgarian initiative, and the first summit was held in Crete in 1997. The countries that take part, apart from Greece and Bulgaria, are Albania, FYROM, Serbia, Romania, Turkey, Bosnia and Herzegovina, Croatia, Moldova, Montenegro, Slovenia and Kosovo. Fundamental objectives of SEECP are the strengthening of good neighbourly relations and the creation of an area of peace, security, stability and cooperation, with the goal of the full European and Euro-Atlantic integration of the whole region.
Today's meeting of the foreign ministers will focus on the latest developments in Southeast Europe and their impact on regional cooperation. Ways will also be explores on the strengthening of SEECP, on the occasion of the anniversary of twenty years of implementation of the SEECP initiative.
Especially on the occasion of the anniversary, Mr Kotzias is expected to stress the importance of the democratic European orientation of all SEE countries and underline the added value of good neighbourly relations and strengthening of regional cooperation.
Given that Greece firmly supports cooperation between countries of the SEECP, focusing on networks, infrastructure projects and business cooperation, Mr Kotzias will refer to the need for further development of energy infrastructure, such as the TAP pipeline and the Interconnector gas pipeline IGB, which promote regional development and strengthen the european energy security.