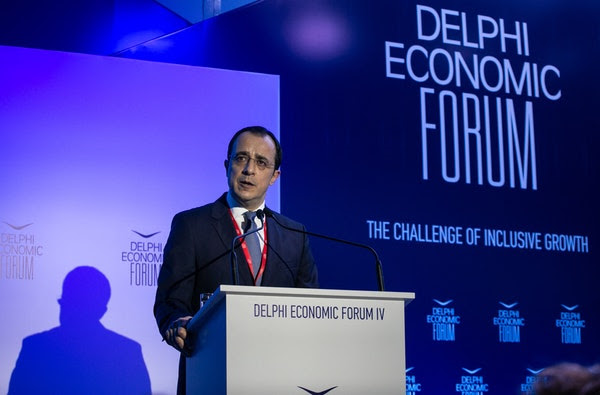 "What determined the history of Cyprus was geography," Cypriot Foreign Minister Nicos Christodoulides noted at the beginning of his speech at the 4th Delphi Economic Forum, adding that the shaping of foreign policy is a complex process as it is based in many parameters.
Nikos Christodoulides stressed that Cyprus has been self-critical as, for many years, "we were passive protagonists in developments that took place in our region and at the same time we had the illusion that with this policy we would achieve developments that would lead to solutions".
He reminded that in 2013 Cyprus has returned to the international stage, again as a problem, since, along with the Cyprus issue, the economic crisis had also arisen, for the management of which bold decisions had to be made.
"We decided to move away from the single-issue policy, the Cyprus issue", the Cypriot Foreign Minister said.
In this context, three political pillars of foreign policy were defined to upgrade the country's geostrategic importance.
The first pillar aimed to strengthen our relations with all the neighboring states, the Middle East and the Gulf.
"With these collaborations, as he stressed, with neighboring states that started due to Energy issues, we have now expanded to a series of issues and we see that mutual benefits and added value exists".
The second pillar of foreign policy was the most active and effective participation in the EU.
"We wanted to have a role for a long time. All this has changed; it is important to prove in practice how we can bring the two areas closer together.
Our goal with this active participation in the EU is to show that we are the spokesman of the neighboring states in Brussels but also the representative of Brussels in the neighboring states, "he said.
A third pillar is the upgrading of the agenda of our discussions with the five permanent members of the UN Security Council.
The new multidisciplinary policy has changed the status quo in the Cyprus issue, Mr. Christodoulides said, adding that for the first time since 1976 we have come so close to a solution of the Cyprus problem./IBNA