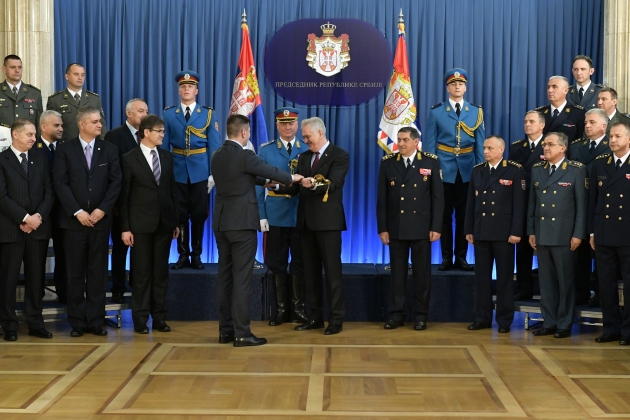 Serbia should not saber rattling, but everybody knows very well that we are capable of defend ourselves, president Tomislav Nikolic said at the reception on the occasion of the Serbian Army Day. The Serbian army is faced with the challenges in the "environment" and responds on them by its readiness, the president said.
"Throughout history, except in Slivnica, we were engaged in wars only defending our territory from others", Nikolic said alluding to 1885 battle against Bulgaria. "Therefore, we are now respected by huge countries with the same military history; we are maybe not respected by those who attack the other countries, but we are not very interested for their appreciation", Nikolic said.
He claimed he was convinced that "even better days" are coming for Serbian army; "the evident recovery of Serbia will lead to military resources recovering", the president said. "Wishing you to have not any military challenges, but to be ready for them, I congratulate to you this important day… This could be my dearest memory during the term", Nikolic who ends his mandate in the end of May said, talking to the representatives of the army and defense ministry.
Nikolic said he was proud of being the army's supreme commander, praising the military for "fulfilling all the commitments that stem from the glorious history and wish for Serbian children to live in peace, free and without fear".
Stressing that the army was "faced with many challenges" in recent years, the president said the soldiers have met everything that was expected of them. The mutual maneuvers of the army of Serbia as military neutral country with the armies "which are not military neutral" shows that "it is good to have a country in Europe and in the world whose army said it would be Serbian only and would not take commands from others, but rather take care on state interests", Nikolic concluded./ΙΒΝΑ