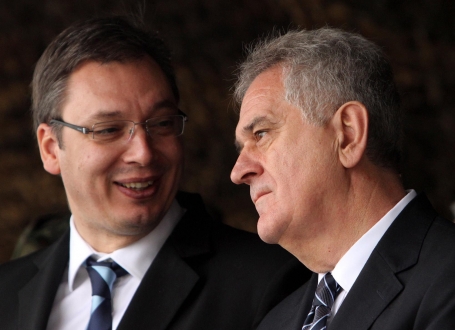 Serbian prime minister Aleksandar Vucic will say who would be the ruling party's nominee for the presidency of Serbia; Vucic is going to reveal this later today, in a TV show, or tomorrow, incumbent president Tomislav Nikolic told journalists.
"I think that we have arranged everything. Perhaps you will hear it from Aleksandar in the evening", Nikolic said when asked whether he would run for a second term. Nikolic admitted that Vucic, as Serbian Progressive Party (SNS) candidate, could win in the upcoming elections "even easier" than him.
It is "nothing bad" if someone thinks that Vucic is a better candidate, but it would be wrong to claim so if it is not the official SNS position, Nikolic said. The president underlined that both he and Vucic, according to Gallup polls, have chances to win and suggested that the party's decision will be accepted by both.
"Do not expect that somebody would disturb relations in Serbia by making his own decision", Nikolic said. If Vucic becomes candidate, he would accept that, he went on. Nikolic denied that he had any precondition for giving up from rerun.
"There are no preconditions, we are assesing what is the best for Serbia and I assume that Aleksandar (Vucic) will tall you that tonight", Nikolic said.
After wining 2012 presidential elections, Nikolic frozen his SNS membership. When asked whether he would turn to party activities, if Vucic is picked to run, Nikolic answered that he would decide whether he will engage in politics./IBNA