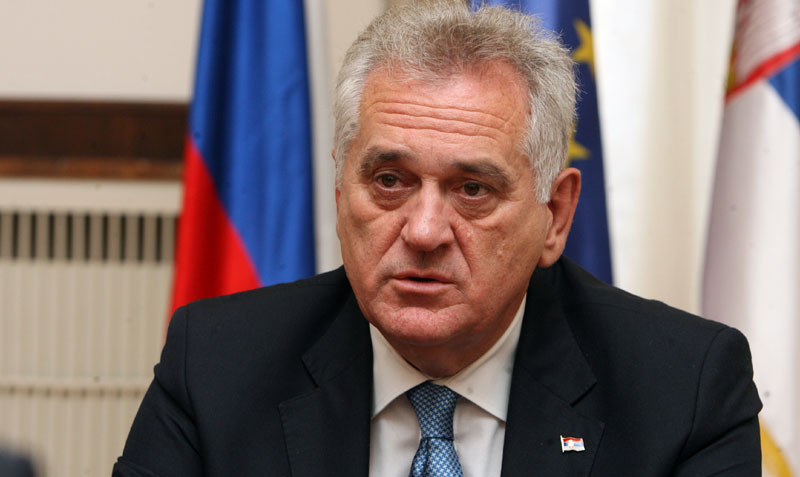 Belgrade, January 27, 2015/Independent Balkan News Agency
By Milos Mitrovic
Serbian nation is in crisis, President Tomislav Nikolic reacted to critics that followed after his earlier statement that country needs "Serbian children, with Serbian genetic code, with Serbian past and Serbian future". On Monday, Nikolic laid the cornerstone for "the Centre of Excellence" of the University of Kragujevac, his hometown; the institution will include a stem cell research unit.
While responding to the critics Nikolic told TV Pink that he "just wants conditions to be met for the procreation of Serbian people, and Serbs among them".
This should be done "in order for our great-grandchildren to look genetically like us… in order some of their ancestor could recognize him (descendant). Otherwise, we may expect everything and experts warn about this, but they are silent because they don't want to be criticized", President said.
When asked whether he considered the possibility to resign due to the statement – as the opposition has demanded – Nikolic said that if someone thinks he had violated the Constitution, debate should be initiated in Parliament and in the Constitutional Court after that.
He recalled that he has a five-year term. Nikolic was elected in 2012. "If citizens have elected me for five years who am I to say that four years are enough. I am not sick and my performance was not bad".
In his words, terminating his mandate would be shameful.
Nikolic stressed that Serbs are faced with depopulation while his statement was "intentionally misunderstood". He added that he had not pointed that "Hungarians, for instance, should take stem cells from Serbs, but rather that everybody may opt whether he would take genetic material from Hungarians, Croats…"
Serbian Ombudsman SasaJankovic posted on Twitter that he regrets Nikolic's statement; he quoted the Constitution: "the State of Serbia belongs to Serbian people and all citizens who live in it".