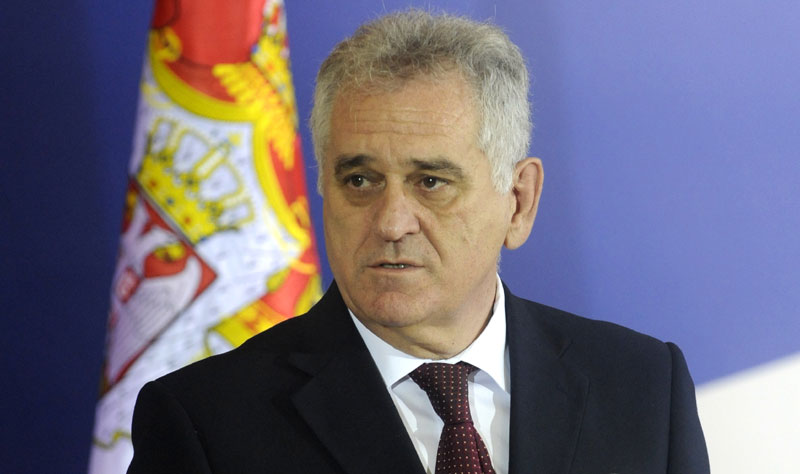 Belgrade, October 15, 2015/ Independent Balkan News Agency
By Milos Mitrovic
Serbian President says he is convinced that if Serbia recognizes Kosovo, civil war will brake out. At the meeting with German journalists in Belgrade today Tomislav Nikolic compared allegedly new European Union's preconditions for Serbian membership to 1914 Austro-Hungarian ultimatum to the Kingdom of Serbia.
He noticed that German journalists were "raising eyebrows" in reaction to his comparison and added he would not like to see it in the headlines.
Nikolic recalled that Austro-Hungary has demanded deploying its police investigators in Serbia following the Assassination in Sarajevo which has triggered World War One. EU now demands from Serbia to submit the reports of its police and judiciary to Pristina, he pointed out.
Serbian President also stressed that United Nation's Security Council Resolution 1244 allows deployment of a certain number of Serbian policemen and soldiers in Kosovo and Metohija.
Nikolic underlined that the centuries of Serbian presence in Kosovo may be recognized "in stones". "I don't know where you can see the traces of Albanian presence… older than 50 years", he told journalists adding that the "mosques are also new".
In his words, it may be possible that Serbian politician who supports Kosovo's independence will appear and win elections one day. "But today, it's impossible".
Earlier this week, after Brussels talks between Belgrade and Pristina representatives, Serbian officials, including Prime Minister Aleksandar Vucic, claimed that Germany has imposed fresh conditions considering Serbian accession talks with the EU. According to this statements, Serbia is faced with pressure to recognize Kosovo "directly or indirectly".
However, German officials including Ambassador in Serbia Axel Dittmann, denied that Berlin requires from Belgrade to recognize Kosovo.
At the same time, some Serbian politicians say that the alleged Kosovo recognition demand "was nothing new". In January 2014, the Serbian government has agreed it would accept "legal document on Kosovo recognition", says Slobodan Samardzic, opposition politician and former Minister for Kosovo and Metohija.
Current Minister without portfolio Velimir Ilic said that EU has demanded from Serbia to recognize Kosovo as early as in 2007.
According to his previous statements as well as of his aides, premier Vucic is to call early elections soon. His Serbian Progressive Party decisively leads in the polls.