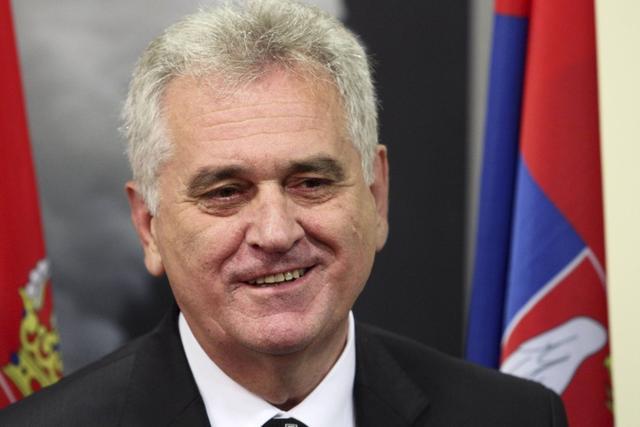 Belgrade, December 29, 2014/ Independent Balkan News Agency
By Milos Mitrovic
Serbian President Tomislav Nikolic said today that the country's EU membership aspiration is a matter of survival; however, the citizens of Serbia would rather live in poverty than allow that "somebody in their name recognise Kosovo and Metohija", president Nikolic added at the meeting with German ambassador.
Ambassador Heinz Wilhelm visited Nikolic after his misunderstandings with the president considering alleged link between Kosovo recognition by official Belgrade and Serbian path towards the EU. Earlier this month Nikolic had claimed that EU Enlargement Commissioner Johannes Hahn had suggested that Serbia will have to recognise Kosovo in order to become EU member state. Wilhelm reacted by saying that Hahn has not said this provoking Nikolic to conclude that ambassador has accused him for lying, "which was a breach of the diplomatic protocol".
"Serbia is dedicated to stabilisation and the peace in the region" Nikolic told Wilhelm today, Radio Television of Serbia reported. He underlined that the Brussels agreement on the normalisation of the relations between Belgrade and Pristina has marked a U-turn "towards a comprehensive political and economic stability".
Serbian president admitted that he was offended by Wilhelm's statement. "This was probably misunderstanding due to lack of communication. I was very surprised because I know that you are mindful in your statements", Nikolic told Wilhelm.
"You are right, in this moment nobody demands Kosovo recognition (by Serbia) … but step by step we are making moves which will lead to de facto recognition. I was not elected by the citizens to tell them fairy tales, but rather the truth".
"If nobody requests the recognition why then EU imposes us – as the precondition for the membership – a legally binding treaty with Kosovo", Nikolic said.
Ambassador Wilhelm told Nikolic that he did not intend to oppose him. "Whatever I said regarding your statement, it must have been misinterpreted", he said.
He also said that his claim that Germany would not demand from Serbia to recognise Kosovo was not "positively received" in Kosovo.
"We are dealing with the normalisation of the relations between Belgrade and Pristina and everybody has its own interpretation on the meaning of this normalisation. It's important to find the solution for good-neighboring relations, but I don't know how this solution should look like", Wilhelm said.
German ambassador concluded that he was convinced that the recognition demand would further push Belgrade's negotiations with Pristina into a deadlock. "In this moment this (recognition) is not the precondition, but nobody knows what could be in 10 or 15 years", Radio-Televison of Serbia quoted Wilhelm as saying.