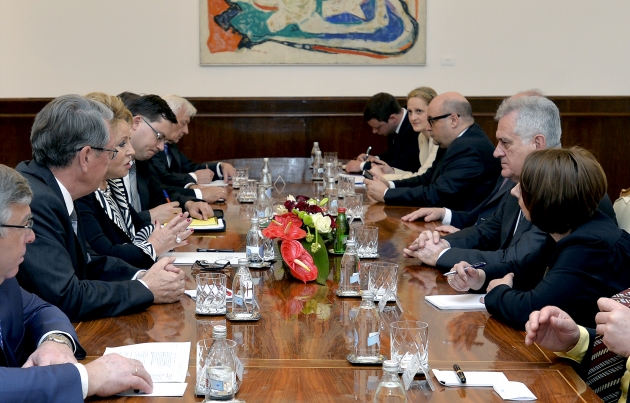 Belgrade, May 13, 2015/ Independent Balkan News Agency
By Milos Mitrovic
Serbia will keep its neutral position and will not impose sanctions against the Russian Federation, Serbian President Tomislav Nikolic said today at a meeting with Valentina Matviyenko, Chairman of the Russian Federation Council.
"We remain firm in our position that Russia and European Union should resolve their disputes through negotiations and we are ready to provide our full assistance – through Serbian OSCE chairmanship – in order for a comprehensive resolution of the Ukraine crisis to be reached", Nikolic underlined, according to his media office.
President appealed to Russian companies to invest in agriculture in Serbia, adding that domestic farmers have ability to produce quality goods "but they lack capital". "Large amounts of Serbian agricultural output goes to the Russian market, where those products are needed; therefore, cooperation in this field would lead to enormous benefits for both sides", Nikolic was quoted as saying by Tanjug news agency.
He expressed his regrets because for the abandonment of the South Stream project, adding that this was an "irreparable loss" for Serbia.
From her side, Valentina Matviyenko expressed "significant satisfaction" over the friendly relations between Serbia and Russia, stressing that such a development largely reflects the "great friendship between the presidents of two countries – Tomislav Nikolic and Vladimir Putin". Since he was elected in 2012, Nikolic met with Putin six times; most recent encounter occurred at the military parade in Moscow on May 9.
Matviyenko hailed "Serbia's principled position", which implies that the Ukrainian crisis should be resolved exclusively by peaceful means.
She stressed that a number of Russian companies have found their interest to invest in Serbia, adding her hope that such a trend would be maintained.
Nikolic and Matviyenko also discussed Russian government's support to finishing the construction of the Saint Sava Church in Belgrade.