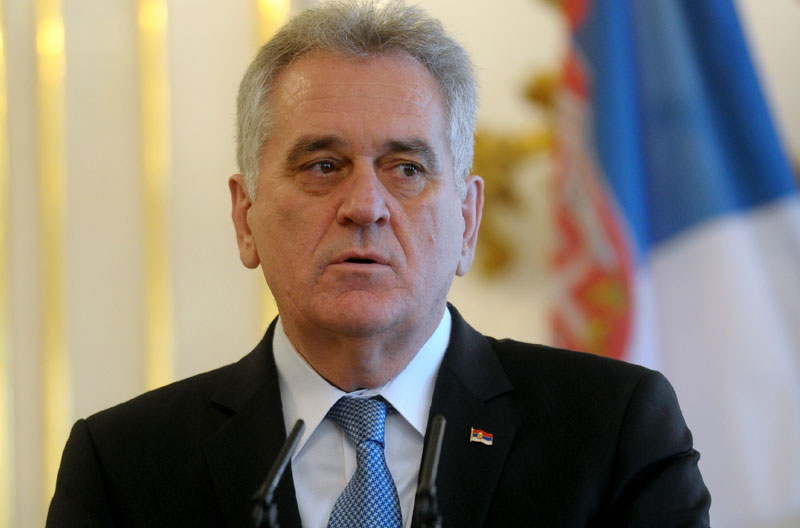 Belgrade, December 23, 2014/ Independent Balkan News Agency
By Milos Mitrovic
The process of the resolving Kosovo and Metohija status would be intensified and Serbia should be prepared for it, President Tomislav Nikolic said today. Talking to editors of several Serbian media, Nikolic added that he would initiate the new platform considering Kosovo, Beta news agency reported.
"It seems that we can expect the intensification of the resolving Kosovo and Metohija status. Serbia should be ready, especially those who negotiate in Brussels on its behalf. Ready in what manner? The Parliament should readopt the program and I am ready to make the draft", President explained adding that he doesn't intend to avoid the problem. "The government is ready to take its part", he said.
The program would be Serbia's red line and possibly Pristina's red line, Nikolic said. President has confirmed that he had discussed the issue with Prime Minister Aleksandar Vucic. When asked whether the program would include the amending of the Constitution, Nikolic answered negatively suggesting that such an move would mean recognizing of the unilaterally declared independence of Kosovo.
In its preamble, Serbian Constitution stipulates that Autonomous Province of Kosovo and Metohija is the integral part of the country.
If Belgrade had recognized Kosovo, Serbia would become European Union member state "within a month", Nikolic said.
"If this is the real problem in our accession negotiations, let's decide now rather than wait five years", Nikolic stressed alluding to EU's earlier announcements which imply that the block would not be enlarged before 2020.
With regard to Serbia's OSCE presidency which will start on 1 January, Nikolic said that "it comes in right time if the world is willing to solve the Ukraine crisis". "Serbia doesn't have its favorites among the confronting countries… We will certainly not stay behind one side or another exclusively".
German ambassador's "gaffe"
Serbian President has claimed that German ambassador to Belgrade Heinz Wilhelm had indirectly accused him for lying "which is crossing the line of well behavior". Nikolic reacted to Wilhelm's comments considering his interpretation on recent EU Enlargement Commissioner Johannes Hahn statement. "I don't understand why is he getting involved in this", Nikolic said.
In November, after Hahn's visit to Belgrade Nikolic has said that commissioner had suggested Serbia would not be allowed to join EU unless it recognizes Kosovo. However, Wilhelm said that nobody has imposed such precondition including Hahn. Nikolic said he respects ambassador very much "but this was inexcusable gaffe".