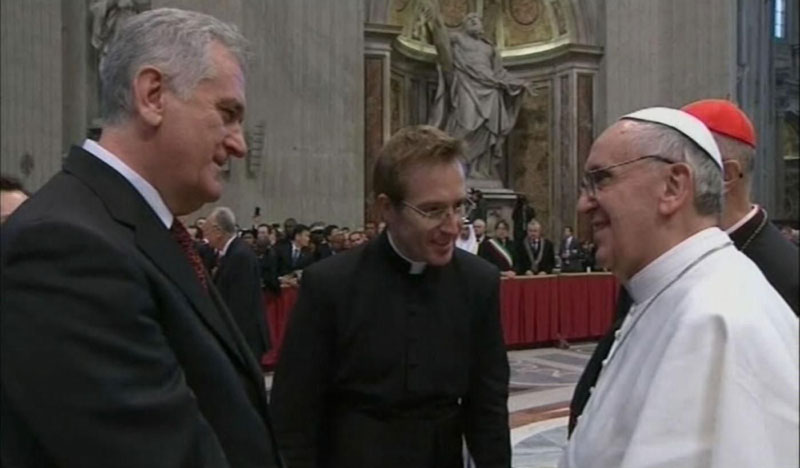 Belgrade, September 11, 2015/ Independent Balkan News Agency
By Milos Mitrovic
Roman-Catholic Church remains firm considering unilaterally declared independence of Kosovo, Serbian President Tomislav Nikolic after meeting with the Pope Francis in Vatican today.
Holly See did not recognize Kosovo's independence so far.  Nikolic told Tanjug news agency that Pope "is irreconcilable" in not accepting Pristina's unilateral act. In his words, Pope follows very carefully everything that occurs in Kosovo and Metohija and is aware of persecution of Christians including Roman-Catholic.
Serbian head of state said that when he has tackled the issue of 2004 devastation of Serbian monasteries – and some of them were saved by Italian soldiers –Pope has mentioned exact names of the temples.
Vatican's press office stated that one of the main issues at the meeting was refugee crisis and conditions of Iraqi and Syrian migrants. The burden of the crisis should be shared equally, it is stated in press release.
President Nikolic and Pope Francis have also discussed Serbian opposing to Kosovo's UNESCO membership and creating joint commission of Roman-Catholic Church and Serbian Orthodox Church that would tackle historical facts about Cardinal Aloysius Stepinac.
Stepinac has served in Nazi puppet Independent State of Croatia during World War II and Vatican plans to declare him saint.
It's a matter of dispute whether Stepinac has supported forced conversion of Serbs into Roman-Catholicism in what is now Croatia and Bosnia. Yugoslav authorities sentenced the archbishop on multiple counts of war crimes and collaboration with the enemy during wartime.
Nikolic has also met his Italian homologue Sergio Mattarella who has praised Serbia efforts in current refuge crisis. He also stated "constructive role" of Serbia in Western Balkans and underlined that Italy supports the opening of first chapters in Serbia-EU accession negotiations.