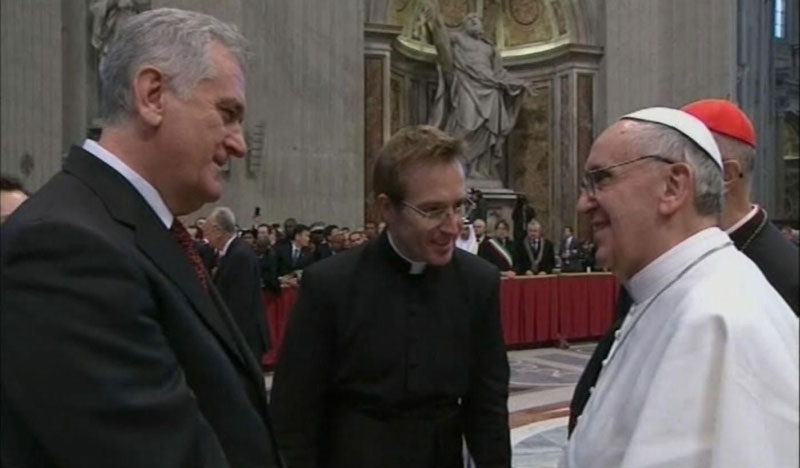 Belgrade, April 9, 2015/ Independent Balkan News Agency
By Milos Mitrovic
Serbian President Tomislav Nikolic will officially visit Vatican on April 17, Nikolic's office confirmed on Wednesday that he would meet Pope Francis.
Nikolic will also meet with Pietro Parolin, Vatican's Secretary of State and Archbishop Paul Richard Gallagher, Secretary for Relations with States, Serbian media reported.
The presidential office confirmed that Nikolic is going to visit Vatican's Apostolic Library. According to his office, Nikolic and Pope Francis would discuss "situation in Kosovo and Metohija and other relevant international issues".
Nikolic attended Pope Francis's inauguration in May 2013 and diplomats say that bilateral relations of Serbia and Holy See are good, without open issues. Vatican supports Western Balkan's integration into the EU with no new preconditions, as pope Francis remarked in his speech in European Parliament last November.
Considering Kosovo and Metohija issue, Vatican's decision not to recognise a unilaterally declared independence has not been changed.
Holy See supports finding a compromise through the dialogue which would lead to peace and stability in the region and guarantee the respect of human rights of all citizens as well as preserving Christian heritage in the province, Tanjug news agency states.
Serbian media recall that Pope Francis has appealed for help to the people in Serbia and Bosnia after the heavy floods that affected the two countries in May 2014.
But relations between Vatican and Serbian Orthodox Church (SPC) are complicated. In July 2014 SPC sent a letter to Holy See regarding the canonization of Aloysius Stepinac, Croatian archbishop who has played controversial role during the Nazi occupation of Yugoslavia.
It's a matter of dispute whether Stepinac has supported forced conversion of Serbs into Roman-Catholicism in what is now Croatia and Bosnia. Yugoslav authorities indicted the archbishop on multiple counts of war crimes and collaboration with the enemy during wartime.
Serbian media speculate that Stepinac's canonization is the main obstacle for a pope to visit Serbia. Last month Croatian media reported that Pope Francis would lead canonization process; he would allegedly visit Croatia in June, with paying respect to Serb victims of the Croatian Nazi puppet state which existed from 1941 to 1945.
Photo: President Nikolic and Pope Francis in the Vatican in 2013