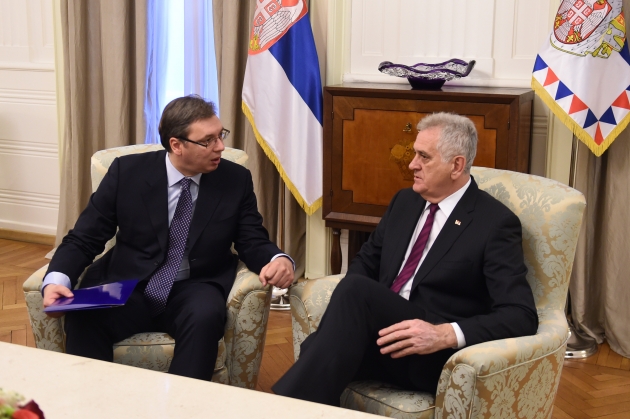 Belgrade, May 23, 2016/ Independent Balkan News Agency
By Milos Mitrovic
Serbian President TomislavNikolic has given a mandate to form new government to the current Prime Minister AleksandarVucic, as it was expected. Conservative coalition led by Vucic's Serbian Progressive Party (SNS) won the majority on April 24 early elections.
"The government will have to take the big burden on its back in hard time when it's better to be in opposition", Nikolic said today praising Vucic for his efforts in previous term.
It is not known yet whether SNS would choose Nikolic for its candidate in 2017 presidential elections, as it was the case four years ago. Vucic, for whom is believed to have the decisive voice in this issue, declines to reveal his plans, if there are any.
Nikolic said that those who don't wish the success to the new government actually wish worse to each citizen. He rebuffed the complaints of some parties that the elections were fraudulous, remarking that these groups even didn't have representatives in all ballot stations.
In President's words, SNS will offer the coalition to other parties, besides the Alliance of Vojvodina's Hungarians (SVM) to which Vucic has proposed cooperation soon after the voting. "Yes, it seems to me that some other lists would also be the part of the ruling majority".
But Nikolic refrained from being more specific saying that this would be "indecent".  "I have my own assessments and information, but please, you should ask Vucic", he added.