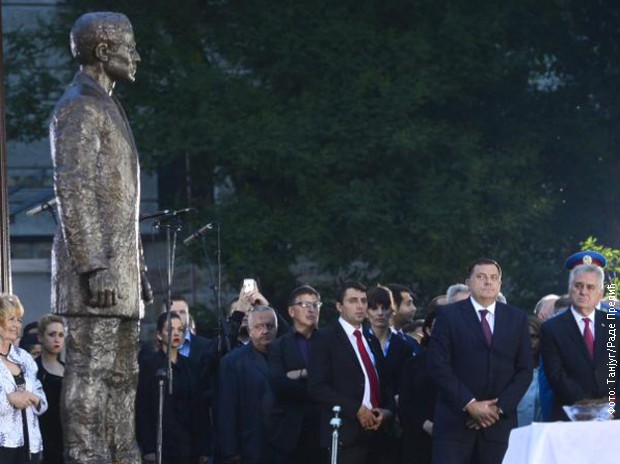 Belgrade, June 29, 2015/ Independent Balkan News Agency
By Milos Mitrovic
"Nowadays it is very easy to blame Serbia and Serbs for everything. Therefore, in the so called historic interpretations we read that the assassination in Sarajevo and World War One outbreak may be absolutely equated", Serbian president Tomislav Nikolic said at the ceremony of opening the monument to Gavrilo Princip, who killed Austria-Hungarian archduke Franz Ferdinand and his wife in Sarajevo in 1914.
The Sunday's manifestation in Belgrade also, which was also attended the Republic of Srpska president Milorad Dodik, Nikolic underlined that claiming that the assassination caused the war represents "the striving to abolish the aggressor and blame the attacked who had focused all its diplomatics efforts in order to avoid the war".
In Nikolic's words, Serbia and Serbs should not "lose the battles which are now being conducted through the books, media debates, Internet". Otherwise, Serbia can lose its "aureole of  the righteous and victorious".
Serbia was always against the war, then and now, he went on. "Its relationship with 'rebelled angels' – as Nobel prize awarded novelist Ivo Andric called them – Serbia expresses with a monument of Gavrilo Princip", the president said stressing that the monument was finally made after waiting for more than a century".
"Princip was a hero, symbol of liberation ideas, tyrant killer", Nikolic said.
The president also referred to United Kingdom's draft resolution on Srebrenica which is to be discussed in the United Nations Security Council ahead to 20 anniversary of Srebrenica massacre. The objective of the document, Nikolic said, is to mark Srebrenica as the only symbol of crime. Nikolic promised he would not allow offending the Serbs who were slaughtered in the "Independent State of Croatia", Hitler's puppet state which existed from 1941 to 1945, as well as those killed by Wehrmacht in Kraljevo and Kragujevac and  drowned by Hungarian fascist in Novi Sad in 1942.
According to Danas newspapers, the representatives of Russia, China and Venezuela have challenged the British resolution in the United Nations.
"Only Serbian heroes who struggle for freedom are being impugned… And now a generation of politicians emerged to reveal the symbol of freedom. Princip is a symbol of freedom because in his 18 he was ready to sacrifice his life for the liberation of his people", Milorad Dodik said at the ceremony. The revelation of the monument represents the ongoing struggle for freedom, Dodik added.
He also condemned British resolution draft underlining that 3,500 Serbs were killed in Srebrenica. Dodik complained that only one event was singled out.
Belgrade mayor Goran Vesic said that revealing the monument has received good reactions while the Serbian public has strongly supported it.