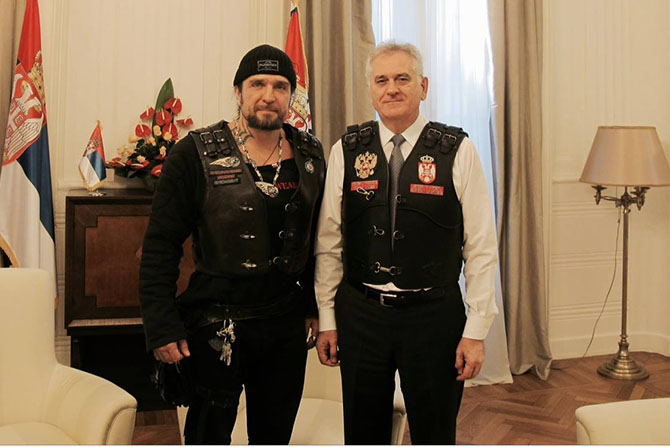 Bucharest, April 30, 2015/ Independent Balkan News Agency
By Milos Mitrovic
President Tomislav Nikolic welcomed Serbian motorcyclist association (MAS) representatives in his cabinet today; MAS members will participate in "Russia Moto Tour 2015", Nikolic's cabinet explained the reason for the meeting in its information for the media.
On May 9 MAS will attend the military parade in Moscow on the occasion of 70 anniversary of the Victory Day. Nikolic and Serbian Army will also attend the event which will be largely boycotted by the West over its conflict with Russia on Ukraine.
Nikolic wished his guests a nice and safe trip to Moscow adding that MAS – as the largest motorcyclists association in Serbia – is obliged to teach young bikers about the importance of the traffic safety, president's cabinet stated.
MAS representatives thanked Nikolic for hosting them and underlined that president's support means a lot for the association. They stressed that they will be even more motivated for the trip to Moscow, taking into account "especially important" support of the President.
MAS is Serbian national motorcyclist association was founded 20 years ago; it has 45 members – motorcyclist clubs from Serbia, Republic of Srpska and Bulgaria.
"Russia Moto Tour 2015" of 6,500 kilometers will start on May 4. Four Serbian bikers will ride 12 days through Hungary, Poland, Belarus and Russia.
In Moscow, MAS representatives will be welcomed by the Russian motorcyclist club Night Wolves. The two organizations will attend together the Moscow military parade.
In 2013 President Nikolic received in his cabinet Alexander Zaldostanov, Night Wolves leader. Russian association has close ties to President Vladimir Putin and a generally Russian nationalist sentiment.
Nikolic, who is widely regarded as a pro-Russian politician, met Putin six times since he became Serbian President in 2012.
Photo: TomislavNikolic and Alexander Zaldastanov in November 2013