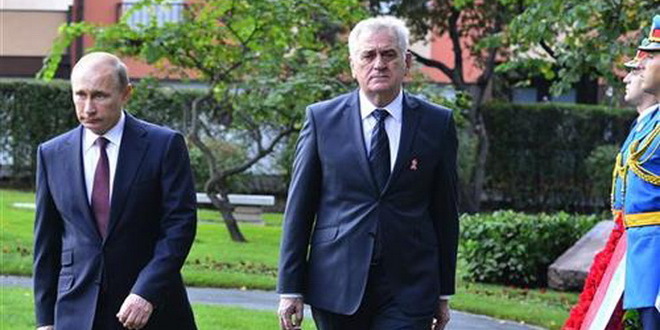 Belgrade, March 20, 2015/ Independent Balkan News Agency
By Milos Mitrovic – Belgrade
Serbian President Tomislav Nikolic will attend military parade in Moscow on 9 May, Russian Embassy in Belgrade confirmed today. Manifestation will be organized to mark 70 anniversaries of the Victory Day in World War Two, but the most of the European Union countries and United States leaders decided not to attend amid tensions with Kremlin over Ukraine crisis.
Nikolic's presence at the parade will also be the opportunity for him to meet his Russian counterpart Vladimir Putin, for sixth time in recent years. Serbian media regularly speculate on President's good links with Moscow, while Prime Minister Aleksandar Vucic is perceived as strongly pro-European politician.
Russian Embassy in Serbia confirmed that Nikolic was invited to attend the parade as early as last year. Vladimir Putin visited Belgrade twice, last time to attend military parade in Belgrade in October 2014. The visit was under EU's high attention due to Serbia's aim to join the block.
Russian Foreign Minister Sergey Lavrov also said that Nikolic is expected in Moscow on 9 May, together with Milorad Dodik, Bosnian entity Republic of Srpska President; 26 countries have confirmed their leaders attendance so far.
At the same time, boycott of the ceremony by the most of the Western states is witnessing how deep the divisions between Russia and West are, Foreign Policy Center Director Aleksandra Joksimovic told Blic daily. However, Belgrade-based organization head says that 9 May represents a joint memory on victory in Second World War. Joksimovic believes there's no place for divisions on this occasion.
"I think that President Nikolic's decision to attend Victory Day anniversary is not big surprise for the EU and country's Western partners. But this would probably become one among the factors which should be rated in sensitive relations in the triangle between Serbia, West and Russia", Joksimovic said still adding she does not believe that Nikolic's move would be regarded as one of crucial importance.