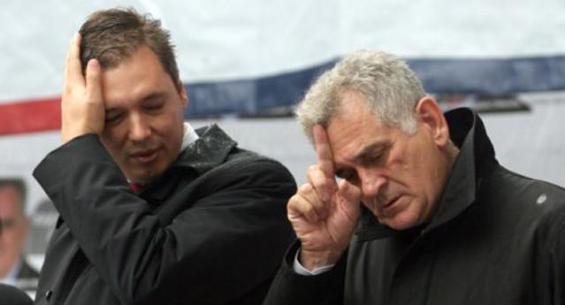 Serbian president Tomislav Nikolic's decision to rerun in the upcoming elections has deeply shocked ruling Serbian Progressive Party (SNS), which had previously chosen its leader, prime minister Aleksandar Vucic, as its nominee. Vucic accepted nomination on Tuesday, and Nikolic announced his bid a day after.
These decisions are the culmination of uncertainty that lasted for months. In 2016 Nikolic clearly declared that he would be ready to rerun, hopefully with the support of SNS, a party he had lead until he was elected for president in 2012. Unlike Nikolic, Vucic has been decisively denying that he had any intention to run for president. Eventually, Vucic did the opposite, claiming that he has better chances than Nikolic to defeat opposition candidates. SNS is now faced with its biggest challenge in years.
According to media accounts and sources from Serbian presidency, Nikolic was ready to give up from his bid, but demanded from Vucic, in return, the positions of prime minister and party leader. Nikolic said today that he is still open "for an agreement", but, according to reports, Vucic is "not interested". Vucic, who is currently abroad, declined to give any comment so far.
At the same time, Vucic's associates including ministers and partners in the ruling coalition are condemning Nikolic and appealing on Vucic "not to give up" from his nomination. Socialist Party of Serbia leader, foreign minister Ivica Dacic said that the President's decision was "shameful". SNS high official and minister in Vucic's government Zorana Mihajlovic said that Nikolic's move was "irresponsible".
Analysts close to Vucic suggested that Nikolic has "stabbed a knife" at the PMs back, while some observers stress the fact that incumbent head of state announced his decision on Russian Sputnik news agency. Nikolic's good relations with Kremlin are well known. Nikolic's move coincided with his 65th birthday; Russia's president Vladimir Putin sent him his best wishes.
Nikolic's nomination marks not only the end of his alliance with Vucic, but a bizarre circumstantial: three most exposed former or current leaders within Serbian Progressive Party (SRS), an ultranationalist group which had significant role in Serbia since it was founded in 1991, are now in presidential campaign. Namely, Vucic, Nikolic and Vojislav Seselj – SRS leader since its foundation. In 2007 Nikolic and Vucic parted ways with Seselj and founded the pro-European conservative SNS. And now Nikolic broke up with Vucic.
It is not clear yet when elections will take place.
Maja Gojkovic, the parliamentary speaker, said that it depends on whether general elections would be also called. Earlier Vucic did not exclude such possibility despite the fact that SNS has clear majority after the 2016 elections. At the same time, it is not known who will be the new premier; SNS members who allegedly strongly support Vucic against Nikolic are certain that their leader will become the country's next President./IBNA