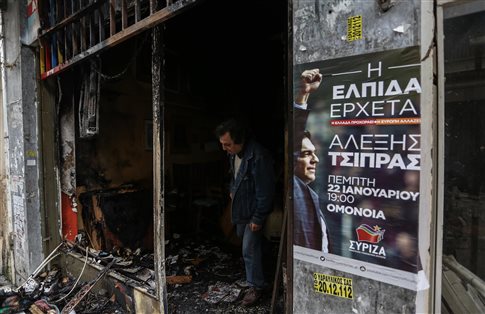 Athens, March 26, 2015/ Independent Balkan News Agency
By Spiros Sideris
Organisation "Nihilistic patrol/ Neibourhood Arsonists" took the responsibility for the arson of the local offices of SYRIZA, located at Byzantiou Stephanou Street in Patissia, at dawn Monday.
In the notice, the organization notes, among other things, that "it is obvious that no clique of authoritarian politicians could ever satisfy our wild desires. You speak of a left-wing government, we want to destroy the state. You promise wage increases, tax cuts, jobs, we want the abolition of money, the goods and labour".
They add that: "You do politics, we make war. Things are difficult 'gentlemen' politicians. You realise that what separates us is an existential abyss and there is not much room for dialogue. So it is no wonder that at dawn Monday 23/3, the official day of the return of 'neighborhood policeman', we chose to offer in the flames of refusal the offices of the local organisation of the ruling party in Patissia".
The arson attack, as they say, was in solidarity to the hunger strikers and "we demand the immediate satisfaction of all their claims, without this meaning that any retreat of the enemy on such individual issues can silence our desire for total destruction of your world".
At the same time, they demand the "immediate release of Savvas Xiros, the mother of the Tsakalon brothers and the partner of Gerasimos, elimination of terror law and the law on hoods, the abolition of type C prisons, the elimination of the violent genetic material taking and free internet access to all prisoners".