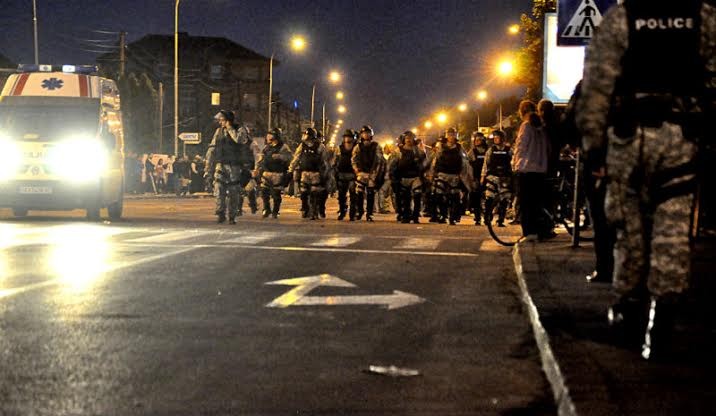 IBNA Special Report
Skopje, May 21, 2014/Independent Balkan News Agency
By Naser Pajaziti
Skopje saw fresh protests last night by Macedonian ethnic citizens following the murder of a Macedonian young man by an Albanian on Monday evening.
Protesters have clashed with police in an attempt to break through police barricades and reach the area of Saraj, inhabited by Albanians. Special units have intervened to disperse protesters, but crowds of hooligans have been present in several parts of the Albanian inhabited quarter. Present in this area were a lot of police special forces too.
Ministry of Interior (MoI) has informed that the protest was dispersed before midnight. 27 people were arrested for violence and for attacking police forces. It's been officially confirmed that 9 police officers have been wounded and several police cars have been damaged, while there are no official figures about the number of wounded citizens.
Local media have reported that 40 people were wounded during clashes with police.
MoI has called for composure and for the media to be careful while reporting in order not to encourage cross ethnic tension. "We urge the citizens not to fall a victim of calls for violent protests and turmoil, because they will face the law. Media must be accurate when reporting information and it must not misinform the public by causing confusion and insecurity", declared the MoI today.
Hooligans don't stop
Groups of Macedonian hooligans have damaged and burned down bars belonging to Albanians and other communities. Last night, several shops and a casino were targeted.
On the other hand, a group of Albanian youngsters had gathered just outside Saraj, the area inhabited by the Albanain community. IBNA talked to some of those who were present. They said that they were there to defend their neighborhood from a possible attack from Macedonian hooligans.
"We will be vigilant, because we fear a possible attack by Macedonian hooligans. This increases the feeling of insecurity, because tens of bars belonging to Albanians were burned down in the Gorce Petrov quarter, just because they belonged to Albanians. The murder has been carried out by one individual and not by all Albanians. What they're doing is a serious provocation and they are looking to cause a cross ethnic conflict more than anybody else. We call on law and order authorities to take measures and not allow such adventurers to destabilize the country", said Amet S., a resident of Saraj for IBNA.
Calls for composure
Former Macedonian general and current leader of "Dignity" political movement, Stojance Angelov called for composure following the murder of the young Macedonian.
"Everyone must preserve composure and give up on fresh protests", because according to him, "Angeli was not killed by Albanians, but by an individual called Naser".
Today, the situation is quiet in Gorce Petrov. All roads have opened. In several central parts there are police patrols following the situation.
How was the protest called
Last evening's protest was called through social networks by groups of young Macedonians. The majority of them were sport fans from Skopje. MoI said that the majority of protesters are aged 15 to 18.
This was the second night of protests following the tragic incident that occurred on Monday afternoon, when the 19 year old, Naser E., stabbed to death the 18 year old Macedonian, Angel Petkovski, following a physical clash after the perpetrator had stolen the victim's bike. Yesterday Criminal Court of Skopje remanded the suspect of the murder into custody for 30 days. /ibna/