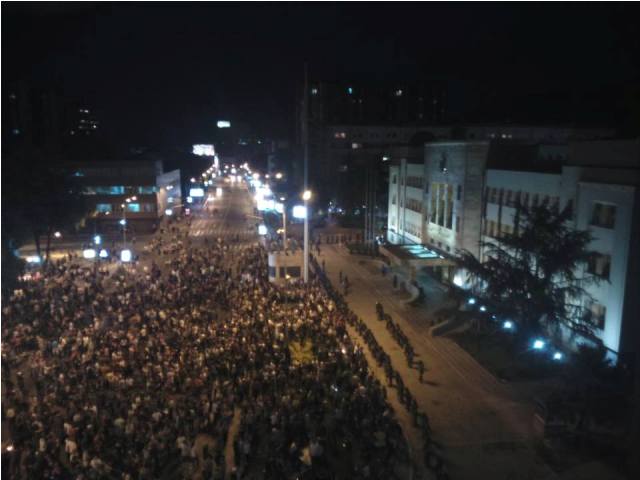 Skopje, 7 May 2015/Independent Balkan News Agency
By Naser Pajaziti
Last night, thousands of citizens held a quiet protest in front of the parliament of the country, as police did not allow them to protest in front of the government.
Protesters reiterated their demand for the resignation of the government and PM Nikola Gruevski, for concealing facts on the murder of a young Macedonian man in June 2011 by a security staff member.
Last night's protest was quiet and without incidents, except for the fact that several protesters threw eggs and other things toward the parliament building.
The protest ended around 1 am, but masked men, who are suspected of being football fans, attempted to clash with police. But even these attempts were prevented, as a group of women activists formed a wall with their bodies in order not to allow hooligans clash with police.
Similar anti-government protests were also held last night in two other cities such as Manastir and Prilep. Citizens in these two cities marched and launched chants against police violence. They also demanded the government to explain about the registered conversations being published by the opposition. For the first time these protests also saw the participation of all officials of Macedonian opposition parties.
Ministry of Interior has reported that groups of hooligans have caused incidents last night. Unknown persons who were part of the protest last night, have attacked the editor in chief of the pro government newspaper "Vecer", Ivona Talevska and a group of journalists. The newsroom of this paper denounced the incident, by stressing that the team of journalists was attacked immediately after the protest and that a group of 15 unknown men had brutally attacked the journalist and her collaborators and also damaged their cars.
A bus was also reported to be attacked by the protesting hooligans along with other small incidents.
Fresh protests have been warned today in Skopje and other cities. Civil movements say that they will continue to protest until the current government steps down. /ibna/