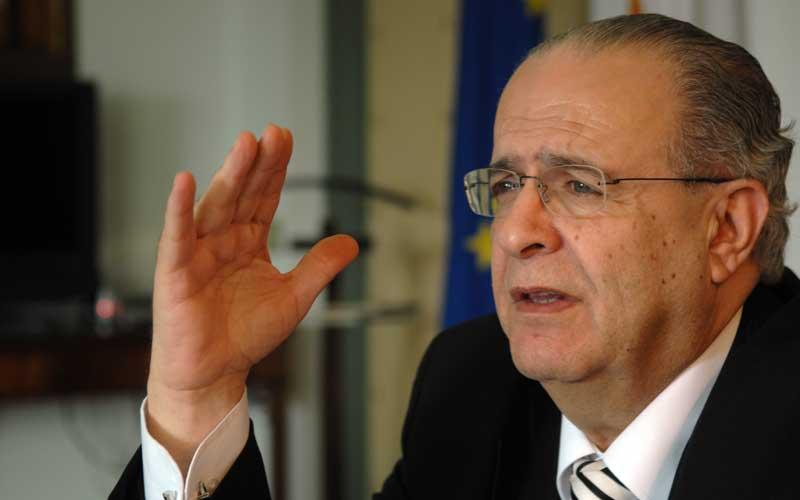 By Kyriacos Kyriacou-Nicosia
Nicosia will not take into account Turkey's demands to suspend all investigations to identify and extract hybrocarbons and will also ignore Turkish Navy Staff Admiral Bülent Bostancıoğlu's recent threatening comments, said Cyprus Minister of Foreign Affairs Ioannis Kasoulides.
He underlined that Turkeys' threats and violations will continue and increase. "The Republic of Cyprus will continue its energy programme as planned. Natural gas should be a motive for Turkey to change its stance", Kasoulides stated.
He added that the trilateral summit concluded between Cyprus, Greece and Egypt "does not turn against Turkey". On the contrast, "it is a political core for peace, stability and security in the sensitive East Mediterranean area".
Cyprus Minister of Foreign Affairs also said that Ankara led itself to isolation due to its aggressive policy".
The leader of the Turkish Navy Staff Admiral Bülent Bostancıoğlu said: "The Prime Minister's Office handed to the general staff rules of engagement and the general staff passed them to the navy. If necessary, we will operate under the rules of engagement".
Turkey does not recognize the state of Cyprus, an EU member since 2004, and recently has dispathed a research vessel to conduct seismic surveys in the island's Exclusive Economic Zone (EEZ).
The action led Greek Cypriot President Nicos Anastasiades to pull out from UN-backed negotiations with the Turkish Cypriot side aiming in reunifying the island, divided since 1974 when Turkey invaded and captured around 37% of its territory.
"Greece also has rule of engagement"
Replying to Bostancıoğlu's threat, a Greek high military source said to Greek newspaper "Vima" that the Greek Navy and army "has also rules of engagement from the Prime Minister and the Ministral Council not only for the Aegean area, but also for the North East Mediterrenean area to protect Greece' national interests".
In the meantime, a new trilateral meeting between Cyprus, Greece and Israel is being prepared, Government Spokesman Nikos Christodoulides has said.
The Cairo meeting, which took place in Egypt at the weekend had paved the way for cooperation with other countries in the region, he said.
President Nicos Anastasiades is due to visit Israel on December 2.
Christodoulides said the tripartite meeting in Cairo was not limited to the three countries (Cyprus, Greece and Egypt), but it paved the way for other states in the region to cooperate and participate either fully or in different sectors.
Referring to the Cairo Declaration, signed in Egypt between the Presidents of Egypt and Cyprus and the Prime Minister of Greece, Christodoulides said that the Declaration clarified the way in which the cooperation would function.
The first step, he said, was the meeting of the ministers of energy of the three countries, on November 24.