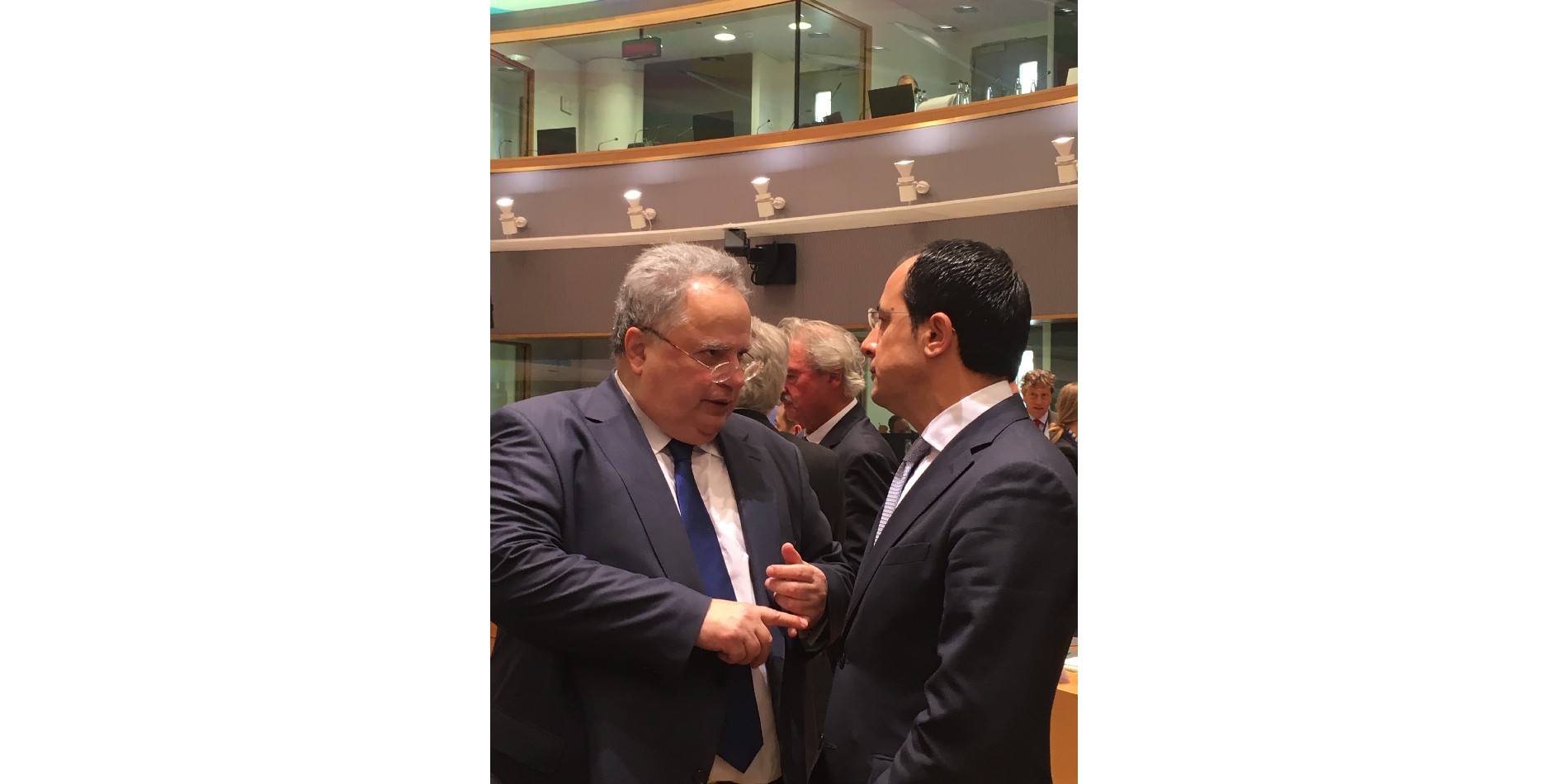 Cypriot Minister of Foreign Affairs, Nicos Christodoulides, participated in the EU Foreign Affairs Council, which was held in Brussels on Monday. The main topics of discussion were the latest developments in relation to Iran and the agreement on the country's nuclear program, the current developments in the Gaza Strip and the situation in Venezuela, in light of the recent elections in the country.
The '28' had the opportunity to conduct an in-depth review of the situation with regard to Iran, in the light of the United States' decision to withdraw from the country's nuclear program agreement. Speaking during the discussion, Christodoulides referred to EU's approach to continuing the implementation of the Agreement, provided that Iran remains committed to fulfilling its obligations. Despite some problems, maintaining the agreement is an important element for security in the Southeast Mediterranean region, Europe and the global architecture for the non-expansion of the use of nuclear weapons, the Foreign Minister stressed. At the same time, Mr Christodoulides stressed the need to avoid behaviours and approaches that threaten security in the region and/or are destabilizing to states in the region.
During a working lunch where Foreign Ministers exchanged views on recent developments in the Gaza Strip, Mr Christodoulides underlined the need for the EU, working with all the parties concerned, to work to prevent a further escalation of the situation. An important element in achieving this goal is the intra-Palestinian reconciliation and, therefore, the initiative of Egypt towards this end should be supported, Mr Christodoulides said. In addition, the Foreign Minister referred to the need for the EU and the international community to take immediate action to mitigate the humanitarian situation in Gaza. Moreover, the Cypriot FM expressed Cyprus' readiness to build on the close relations it maintains with all parties involved, as well as other actors in the region, in order to strengthen their dialogue with the EU and address the different approaches that are presented.
As part of the Council's work, Mr Christodoulides briefed his counterparts on the results of his recent visits to Saudi Arabia and Russia.
Earlier on Monday morning, the Foreign Minister attended an informal breakfast organized jointly by the Foreign Ministers of Bulgaria and Austria, between the EU Foreign Ministers and the Foreign Minister of fYROMacedonia, during which there was a briefing on the progress of reforms in the country.
On the sidelines of the Council, the Foreign Minister had a meeting with his Greek counterpart, Nikos Kotzias, during which the Greek Foreign Minister informed Mr Christodoulides about the outcome of his meetings in Washington and about his discussion with the Cyprus Republic and the Secretary-General of the United Nations./IBNA
Photo: pio.gov.cy