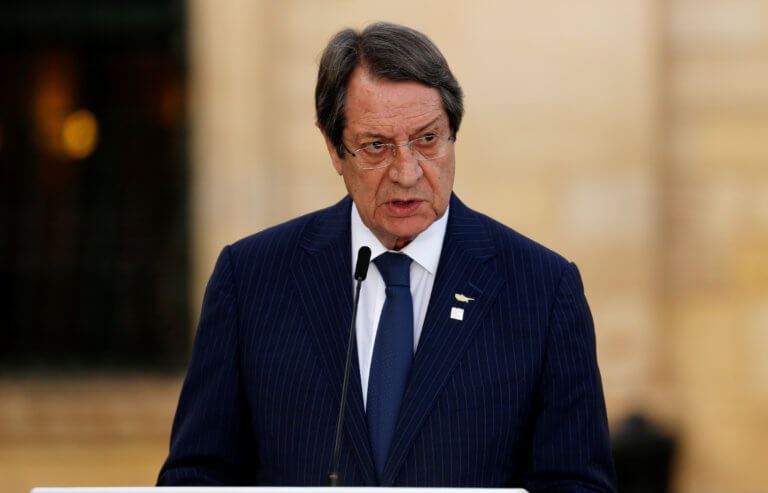 Developments are ongoing, and within days you will see that they will extend beyond the region across the Atlantic, President of the Republic of Cyprus Nicos Anastasiades said today, referring to the efforts being made to prevent the actualization of everything the illegal Turkey-Libya Memorandum is trying to achieve.
Speaking to the press following his visit to the "Stavros Stylianides" military camp in Kornos, to a question regarding the responses on behalf of Cyprus in relation to the Turkish provocations, the President of the Republic replied that "everyone should be aware that plans in process of being implemented is not something that should make the news. When the relative decisions will be concluded, then those will be talked about. Therefore, the less we say, the more successful we will be in our efforts".
Called to comment on the actions that have been made public, the Cypriot President responded that "I am not going to make any comments, since it was wrong to publicize the steps taken by the Republic. Protecting our country is not intended for domestic consumption".
One more question on the subject followed, with the President being asked to comment on the media reports, "it is the European policy we follow, not the reports".
Called to comment on the developments around the investigations on the van incident, President Anastasiades said it was something that "falls under the jurisdiction of the Police and the prosecuting authorities. What I can tell you is that at least it does not cause any problems between Cyprus and Israel. Today, I had the opportunity to speak with Israeli Prime Minister Benjamin Netanyahu. Not only no issues arose but on the contrary, the determination of both countries was stated once again to proceed with close cooperation and concrete actions, in order to prevent what Turkey is trying to achieve through its illicit activity and its void agreements with Libya".
When one of the reporters pointed out that, apart from the Israeli Prime Minister, he also had the chance to speak on the phone with both the Egyptian President and the Lebanese Prime Minister-designate, the President of Cyprus stressed that "the whole effort is about achieving coordination in a way that can help to overturn whatever they are after. Over the next few days there might be some announcements regarding specific areas of action".
To a question regarding whether these actions would involve collaboration with other countries, President Anastasiades underlined that "when we speak of joint actions, we never mean in a military sense. These are initiatives on the EastMed pipeline for example; for coordinated action aimed at promoting the demand for a no-results agreement – which constitutes an undebatable position of both Egypt and Israel, as well of the rest of my counterparts either in the UN, the EU or in the Arab League.
Therefore, developments are ongoing, and within days you will see them extending beyond the region across the Atlantic. As a result, what I ask is simply to remain calm; to not be sidetracked by any provocations and to work in a way that truly serves the good of our nation". /ibna