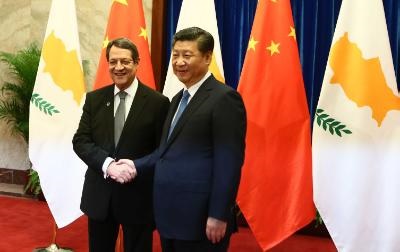 Nicosia, October 15, 2015/Independent Balkan News Agency
By Kyriacos Kyriacou
The Cyprus problem, the economy, energy and the prospects opening up for significant Chinese investments to Cyprus were among the issues discussed during Thursday's meeting of the President of the Republic of Cyprus Nicos Anastasiades with the President of China Xi Jinping at the Presidential Palace in Beijing.
In his remarks to reporters, following his meeting with the President of China, President Anastasiades said that he had the opportunity to brief Xi on the latest developments on the Cyprus problem, but also, during the dialogue, to examine thoroughly the issues of the economy, investments, either in tourism or in transportation, but also in particular on issues that concern Energy and, in general, on the prospects that are opening up so that there will be significant interest with regard to investments by Chinese companies in Cyprus.
The Cypriot President added he and Xi discussed on the relations between China and the EU and "I have assured the Chinese President that, in spite of the size of our country, nevertheless we will try in every way for the good relations between the EU and China to succeed through the conclusion of an agreement for a free market and commerce."
Asked to comment on the reaction he had from the President of China, President Anastasiades said that "there was great interest about the developments on the Cyprus problem, he referred to the firm position and stance of China on issues of principle and reiterated the support for a solution that will be based on the UN resolutions, while, at the same time, we have of course agreed that the competent Ministers, whether of Transport or Finance or Commerce will hold separate meeting.
Already the Minister of Transport had a meeting with his Chinese counterpart, and the Minister of Foreign Affairs will meet tomorrow with the Deputy Foreign Minister of China."
Asked whether the issue of Energy was raised at the meeting, President Anastasiades said that "there was an extensive dialogue with regard to Energy issues, especially taking into consideration the technical expertise of this friendly country, and there was interest expressed so that in any future licensing to have greater participation on the part of the Chinese state."