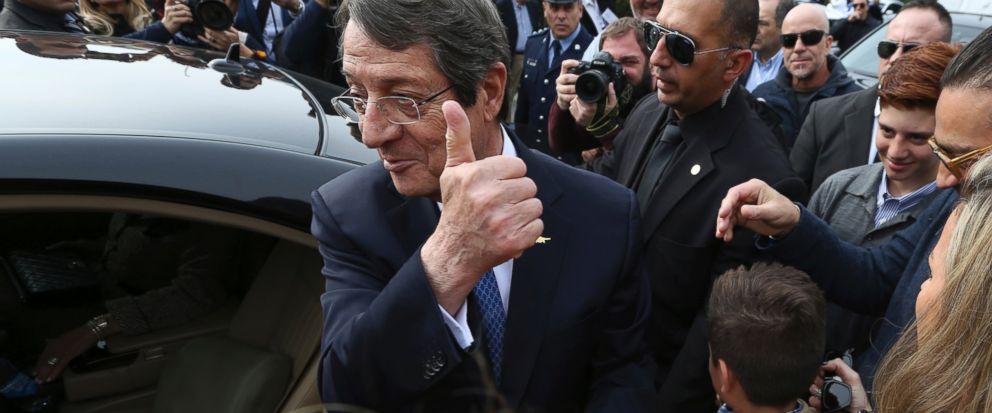 Nicos Anastasiades was elected for a second presidential term, at the helm of the Republic of Cyprus.
In the second round of the Presidential Elections in the Republic of Cyprus, incumbent President Nicos Anastasiades who was supported by Democratic Rally (DISY) and Stavros Malas, with the support of the Progressive Party of Working People (AKEL) came first and second respectively, out of a total of nine candidates.
According to the 97% of the counted votes, Nicos Anastasiades defeated Stavros Malas by a significant margin, since the winner got 56% of the votes, whereas the second received 44%.
Anastasiades and Malas had also got to the final round of the Presidential election of 2013. Back then, the present head of Cyprus had won with 57,48% of the ballots with Malas again behind him with 42,52% of them. During the first round of last Sunday, Nicos Anastasiades had got 35,51%, Malas 30,24%, while abstention was at 28,1%.
President of the European Commission, Jean-Claude Juncker, congratulated Anastasiades on his reelection
In his message, President Juncker stated the following:
"Dear President Anastasiades,
On behalf of the European Commission and myself, I would like to offer you my warmest congratulations on your re-election as President of the Republic of Cyprus.
Following the renewal of your mandate, I am confident that you will continue to pursue, as skillfully as you did during your first term in office, the policies that have steered Cyprus on the path of economic growth.
I would also like to take this opportunity to assure you that I stand ready as ever to assist in the efforts to bring to an end the division of the island and achieve the reunification of Cyprus.
I look forward to continue working closely with you in the next months in our common endeavor to deliver a more united, stronger and more democratic Union"./IBNA
Photo: AP