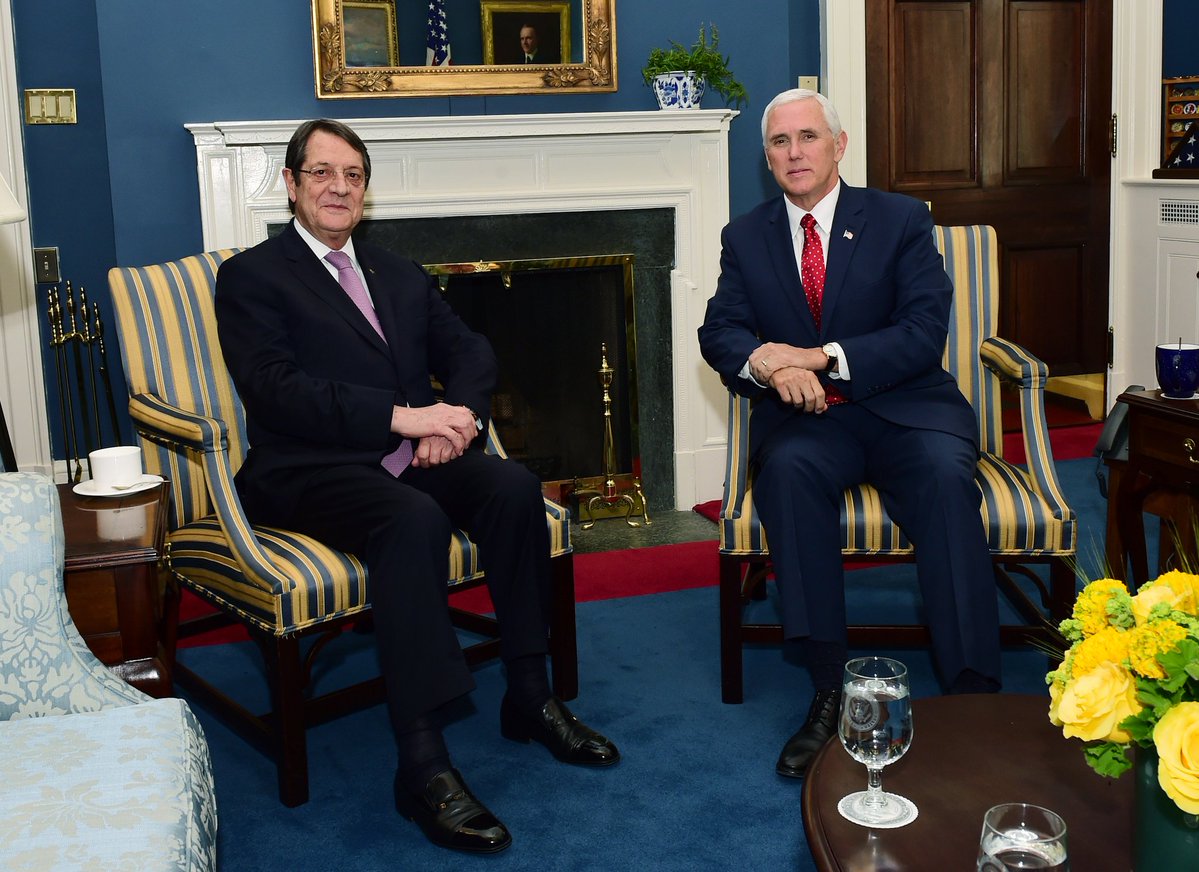 President of the Republic of Cyprus Nicos Anastasiades has expressed full satisfaction with his meeting, on Thursday, at the White House with US Vice President Mike Pence.
During the 45-minute meeting, according to a member of the Cypriot delegation who was present, the President found an interlocutor who was as warm a supporter of Cyprus – as a strategic partner of the US – as was Pence`s predecessor, Joe Biden.
Speaking to journalists after the meeting, Anastasiades described it as very friendly, noting that the discussion was conducted in a warm climate. Pence had visited Cyprus ten years ago and was invited by the President to visit it again.
Anastasiades was warmly received by Pence at the Roosevelt Room on the west wing of the White House.
Describing the meeting as "adequately creative", Anastasiades explained that they covered issues including bilateral affairs and ways to further enhance relations. "We covered issues that concern our region but what satisfies me is the understanding of the role Cyprus plays as a result of the excellent relations it maintains with all its neighbouring states," the President said.
He also said that he was pleased to hear the position of principle that the US maintains that no one can question the Republic of Cyprus' sovereign rights within its exclusive economic zone.
Anastasiades said that most of the discussion was taken up with the problems which the peace talks to resolve the Cyprus problem are facing. He said Pence had complete knowledge of what had taken place with the UN Secretary General earlier this week and the difficulties "we are facing".
He further said that he analysed in detail the problems ahead and the need for an intervention from those who will benefit out of a solution to the Cyprus problem.
The Cypriot President said that what satisfies him is the feeling and statements of the Vice President that the US are interested in a solution to the Cyprus problem which will be acceptable by the entirety of the people and which will be based on principles as defined through the acquis communautaire, since Cyprus is a member of the EU.
Another element that is significantly positive is the willingness (on the part of the US) to respond to any intervention or need that might arise during the dialogue or during the policies which the Republic of Cyprus is exercising. Anastasiades said Pence is ready to accept his personal contact in order to contribute to a more effective intervention on the part of the US.
The Cypriot delegation to the meeting comprised Minister of Foreign Affairs, Ioannis Kasoulides, Minister of Energy, Yiorgos Lakkotrypis, Government Spokesman, Nikos Christodoulides, and the Ambassador of the Republic in Washington, Leonidas Pantelides, while the US delegation included, among other high ranking American officials, US Ambassador in Nicosia Kathleen Ann Doherty./IBNA