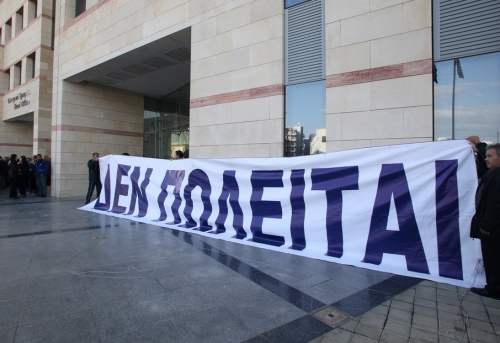 Review Hari Stefanatos
– The employees of the three largest semi-government organizations (SGOs) in Cyprus, the Cyprus Telecommunications Authority, the Electricity Authority of Cyprus and the Cyprus Ports Authority, have began strikes on Friday in order to protest against the government bill which refers to the privatisation of profitable SGOs. The Transmission System Operator (TSO) warned on Thursday evening that it could not rule out failure of the entire grid, while CYTA employees protested outside their central offices today. Party leaders have led their support to the employees cause.
– Cyprus' Council of Ministers approved the legal framework for the privatisation of the state-owned organisations, on Thursday, causing a roar of protests by the employees of the affected organisations. The "Privatisations Law 2014" bill is a precondition for the next tranche of the €10bn financial assistance package.
– UN Secretary General Ban Ki-moon has sent a letter to Cyprus President Nicos Anastasiades, in order to congratulate him on the agreement reached this week between the Greek Cypriot and the Turkish Cypriot leaders on a joint declaration, which marked the resumption of the Cyprus talks. According to CNA sources, in the letter, dated February 11th, the UNSG informs the Cypriot President about the resignation of his Special Advisor for Cyprus, Alexander Downer.
–  Cyprus Archbishop Chrysostomos II has expressed his support of the decision of the Republic of Cyprus' President, Nicos Anastasiade, to agree on a joint declaration with Turkish Cypriot leader Dervis Eroglu.
– Cyprus Minister of Labour and Social Insurance Zeta Emilianides is working on a new scheme, which will be co-financed by the European Social Fund by 95%, aimed at employing 5,000 young people for a period of six months in order to gain work experience.
– House of Representatives President Yiannakis Omirou stated after the meeting with the French Senate President, Jean Pierre Bel, during his visit to France, that France is standing by the people of Cyprus.
– Four Ukraine airlines, "Ukraine International", "UTAIR-Ukraine", "Air Onix" and "Wizz Air Ukraine", will conduct flights from Kiev, Donetsk and Odysseus to Larnaca and vice versa. The announcement comes as a result of the lifting of limitations to the number of airlines that conduct scheduled flights between the two countries.
(Source CNA)