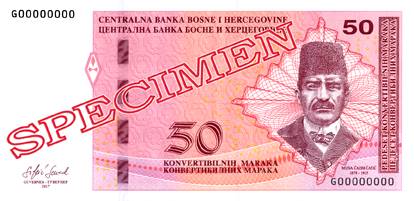 BiH Central Bank (CBBH) announced that it will put in circulation banknotes in denominations of 10, 50 and 100 BAM and coins in denominations of 5, 10, 20 and 50 fening and 1 BAM, additionally printed and minted since the beginning of this year.
"The banknotes and coins of mentioned denominations, 2017 issue, are printed and minted as regular business activities of the CBBH, aiming to provide enough banknotes and coins of appropriate denomination structure for cash payments needs in BH. The new issue will replace the circulating banknotes from the previous issuance, which will be withdrawn from circulation, due to deterioration over the past years", CBBH explains.
Banknotes of previous issues, whose quality is satisfactory in accordance with the CBBH standards, as well as coins of previous issues, will remain in circulation as a legal tender.
CBBH emphasized that the main features of banknotes, printed in 2017, remain the same as those of the prior issue banknotes, with the exception of the numerical sign "2017" as the year of printing specified on of the new issue and signature of the CBBH Governor "Senad Softić". Also, the same characteristics of additional quantities of coins minted in 2017 remain, but the reverse side of all denominations coins has numerical sign "2017" as the year of minting of the a.m. denominations.
"Printing and minting of new quantities of convertible mark banknotes and coins have no inflationary effect, because none BAM shall be put into circulation without adhering to the principles of Currency Board, which means that each issued convertible mark has the coverage in foreign currency by the fixed exchange rate", CBBH said.
The banknotes and coins will be put in circulation successively, as needed through the CBBH Main Units and Branches./IBNA