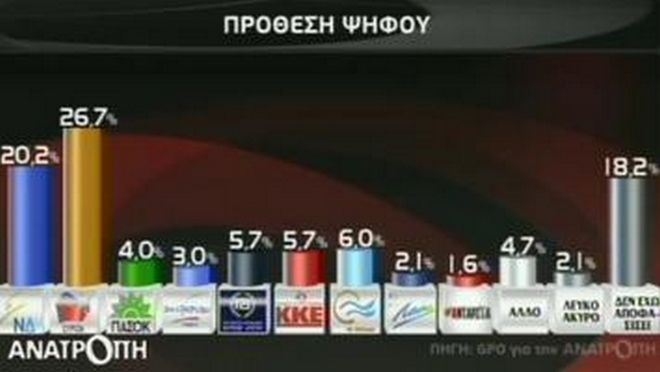 Review Hari Stefanatos
A 6.5% SYRIZA lead against the New Democracy, in terms of voting intentions, shows the newest poll conducted by the company GPO, on behalf of the television station "MEGA".
In particular, to the question "if we had elections next Sunday, what would you vote?", 26.7% of respondents answered SYRIZA and 20.2% ND. In the third place is "The River" with 6%, followed by the "Golden Dawn" and the KKE both with 5.7%, PASOK with 4% and the "Independent Greeks" with 3%. LAOS gets 2.1% and ANTARSYA 1.6%. "Other Party" chose 4.7% of respondents, while 2.1% went for Blank / Invalid. Unclear remains the voting intention of 18.2% of the respondents.
To the question about the most appropriate Prime minister, Antonis Samaras leads with 43.1%, followed by Alexis Tsipras with 37.2%. None responded (spontaneous) 17.9%.
On the question of the election of the new President of the Republic, 55.7% think that parties and MPs must choose the right person, while 40.3% believe that any proposal should be voted against, so that the country is led to elections. 4% answered "do not know / no answer".
Furthermore, as regards with the negotiations on the debt of the country, 48.9% of respondents maintain that it should be done by a government that will emerge from the elections, while 42.5% think that has to be done by today's government. 8.6% answered "do not know / no answer".
The geographical coverage of the survey is nationwide and was conducted between 9-13 of October, 2014.
(Source: AMNA)