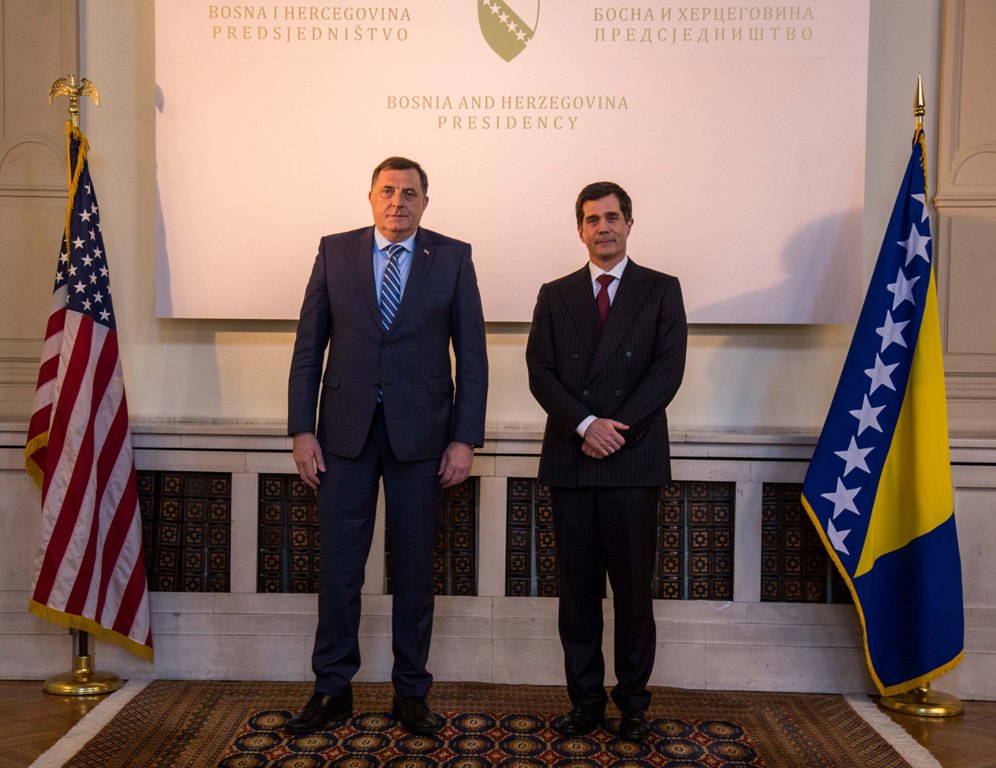 US diplomat, Eric Nelson, has arrived in Bosnia and Herzegovina and presented his credentials to the Chairman of the BiH Presidency, Milorad Dodik, as new Ambassador of the United States.
"I look forward to leading my government's work here to advance prosperity, security, and respect for the rule of law benefiting all the citizens of Bosnia and Herzegovina. The United States continues as a guarantor of Bosnia and Herzegovina's sovereignty and territorial integrity.  I look forward to helping you and your colleagues in the Presidency achieve progress toward your country's declared goals to become partners in NATO and the European Union", Ambassador Nelson stressed during the ceremony.
During meeting with the new US Ambassador, Milorad Dodik openly objected the NATO membership.
"We're committed to cooperation with NATO and we have certain arrangements through the Partnership for Peace and individual cooperation programme. Our soldiers take part in various missions within NATO but I would like to tell you that there is no consensus in Bosnia and Herzegovina on accession to NATO", Dodik said, adding that, on the other hand, there is full consensus on the European Union integration.
"We want your help. We are devoted to the European integration", he added.
The Presidency Chairman also said BiH appreciates the role of the USA in ending the 1990s war as well as its role in establishing the peace and stabilisation in Bosnia.
Ambassador Nelson plans to host a press conference in the near future to outline the U.S. Government's key priorities for his tenure in Bosnia and Herzegovina. Previously, he served as Deputy Executive Secretary and Director of the Executive Office of the Executive Secretariat, leading the teams that directly support the Secretary of State and principal officers of the State Department and their staffs.
Nelson succeeded Maureen Cormack on the ambassador position in BiH. She served in the period when Dodik was RS President and their relations were disputable, to say the least. During that period, Dodik often spoke about the "dissolution of BiH" and the independence of Republika Srpska. The US Administration in response to this stance placed Dodik on the "black list", imposing sanctions against him. His hope was that the new US Administration, following Donald Trump's election as US president, would lift the sanctions and revoke Cormack from the position of ambassador, but that was not the case.
Therefore, the ceremony in BiH Presidency building was a bit unusual, because the new US Ambassador Nelson, presented his credentials to the person that is under sanctions – imposed by his own country./IBNA