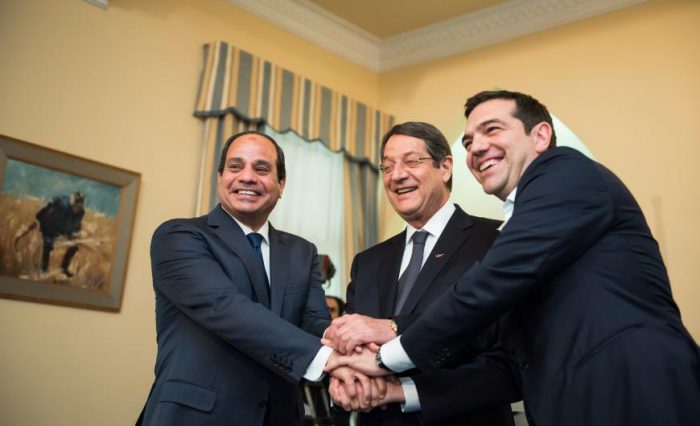 According to IBNA's well informed sources, ever since November 2014, when the first Trilateral Summit between Greece, Cyprus and Egypt which had then taken place in Cairo, there was a first kind of agreement on the demarcation of the EEZ between Greece and Egypt.
Already since 2003, Cyprus and Egypt, have delimited the EEZ between them, which was the first delimitation them, after a two-year negotiation. The Egyptian demand for a 30km increase in its EEZ due to its longer than Cyprus' coastline was solved, as during that same time there was a negotiation to demarcate the EEZ between Egypt and Saudi Arabia. The then Minister of Commerce of Cyprus, Nikos Rolandis, who had participated in the negotiations, had stressed to his Egyptian counterparts that they might be expected (by the Saudis) to increase their EEZ because Saudi Arabia had a longer coastline than Egypt. An argument that most probably worked as the demarcation started as planned.
According to the explanation given to IBNA by a high governmental official from Greece during the 1st Trilateral Summit in Cairo, the Egyptian side accepted the inclusion of Castelorizo and Strongyli islands. This development significantly restricted the Turkish EEZ in the Mediterranean. However, the deep political involvement of the Muslim Brotherhood that was still part of the Egyptian Al-Sissi government did not leave room for EEZ demarcation moves at that time. In the years that followed things remained sterile too. Like a government official told IBNA, no progress had been made because of Egypt's stance, which, even after the Greek  government had changed and Alexis Tsipras had become the country's new premier, Egypt did nothing to alter or improve things.
An indicative of how much inconvenience the situation was causing to the Greek side was the "intense" manner of Greek Prime Minister Alexis Tsipras towards the Egyptian President El-Sisi during the 4th Trilateral meeting, in Cairo. As IBNA knows, Alexis Tsipras asked Sisi to find out why there was delay in negotiations. The Egyptian President said he was unaware of the situation and asked for the assistance of his ministers, which enabled the continuation of the now completed delimitation process, according to information.
The demarcation and the short-term designation of the Greece-Egypt EEZ as well as the unilateral demarcation and declaration of the Cypriot EEZ with Turkey, also leads to the demarcation of sea borders between Greece and Cyprus. This opens the way to exploration and extraction procedures of natural resources that have been discovered in the underwater area of ​​the largest marine area in the Eastern Mediterranean.
Completing the demarcation and declaration of EEZs among the Eastern Mediterranean countries creates a field of cooperation for the benefit of security and stability in the region. As for Turkey's role in the region, it needs to be redefined by the Turkish side so that it could participate perhaps in the most profitable energy company in the world…/IBNA