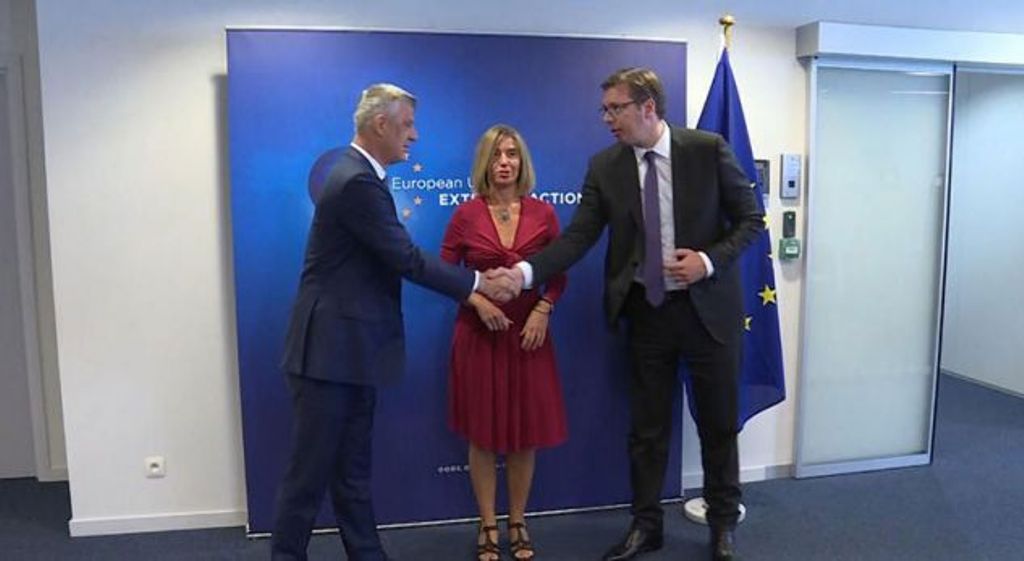 Presidents of Kosovo and Serbia, Hashim Thaci and Aleksandar Vucic are expected to meet in Brussels today in the presence of the EU chief of diplomacy, Federica Mogherini.
In this final phase of the dialogue, the pair is expected to discuss a way to normalize relations between the two countries.
The meeting takes place a few days after the two presidents demanded international support for an eventual agreement which may be reached in these talks, even if the agreement in question leads to border changes.
The aim of the Serbian president, Aleksandar Vucic is to introduce a border between Albanians and Serbs, which means division of Kosovo.
Meanwhile, Kosovo's president, Hashim Thaci on Thursday reiterated his idea for the correction of borders, which means the union of the Presevo Valley with Kosovo.
President Thaci travels to Brussels by leaving a much divided political situation back home. Opposition parties say that they will take any political action, including protests, in order to prevent the president and anyone else from negotiating Kosovo's territorial integrity.
A part of the political parties in the country, including PM Ramush Haradinaj are also against the idea proposed by president Thaci.
Neither the president of Serbia, nor the president of Kosovo has revealed any details as to how their ideas may be implemented.  The international community is also divided on this issue. A part of the EU member countries, including Germany and the UK, have rejected the idea for border changes or territorial exchanges due to the consequences that this could have for Western Balkans, while the US has left it as an open option.
A few days ago, the head of the EU diplomacy, Federica Mogherini said that she's expecting a difficult meeting in search of a legally binding agreement between the two countries, while stressing that she "will support any solution which does not lead to the creation of single ethnic states".  She said that she's hopeful that the agreement will be reached until next year, which also marks the 20th anniversary of the war of Kosovo…. / IBNA