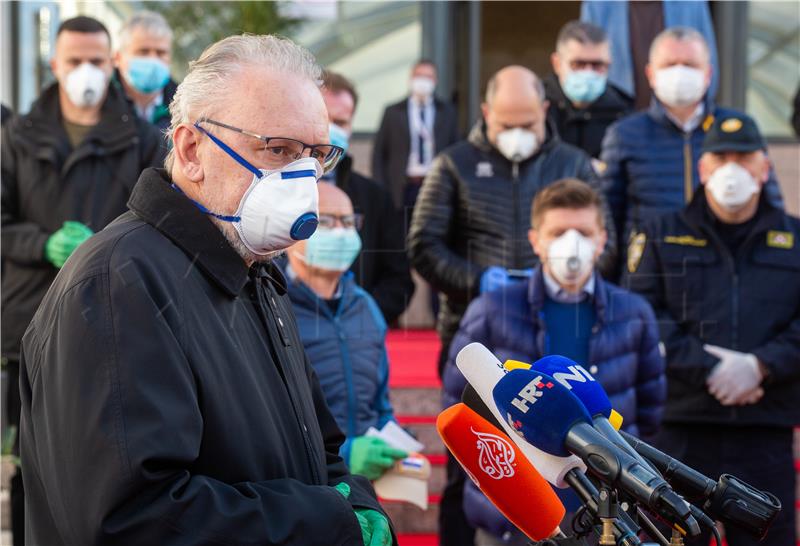 A new quake, measuring 3.7 on the Richter scale, shook Zagreb around 11.12 a.m. on Monday. The earthquake lasted a few seconds and its epicentre was four kilometres north of Zagreb and eight kilometres southeast of Kasina.
A teenager who was injured in the earthquake on Sunday is still in critical condition, while several dozen citizens suffered light injured. At the same time, citizens must respect the anti-coronavirus measures.
Croatia's COVID-19 crisis management team said on Monday that a ban on travelling from town to town would be imposed, as a more measure restrictive measure aimed at containing the spread of coronavirus.
"The number of patients infected with coronavirus is rising, and these are necessary measures", said Interior Minister Davor Božinović who chairs the crisis management team.
He warned that in the event of the violations of the measures, the authorities would be forced to adopt measures that are more rigorous.
He said that some residents of Zagreb had fled the city on Sunday morning, and that it was a reflex reaction after, the Croatian capital was struck by strong quakes.
"Those citizens will be allowed to come back to their homes in Zagreb", Božinović said at the regular news conference, which the crisis management team has been holding every morning since the outbreak of the pandemic.
Croatian Minister of health Vili Beroš, at this morning's press conference of the Civil Protection Headquarters, announced the new confirmed cases of coronavirus in Croatia. The number of people infected with coronavirus in Croatia has risen overnight by 52 and is now 306.
Beroš also stated that a Croatia Airlines plane had landed at Zagreb Airport carrying medical equipment that has been donated to Croatia by the United Arab Emirates./ibna