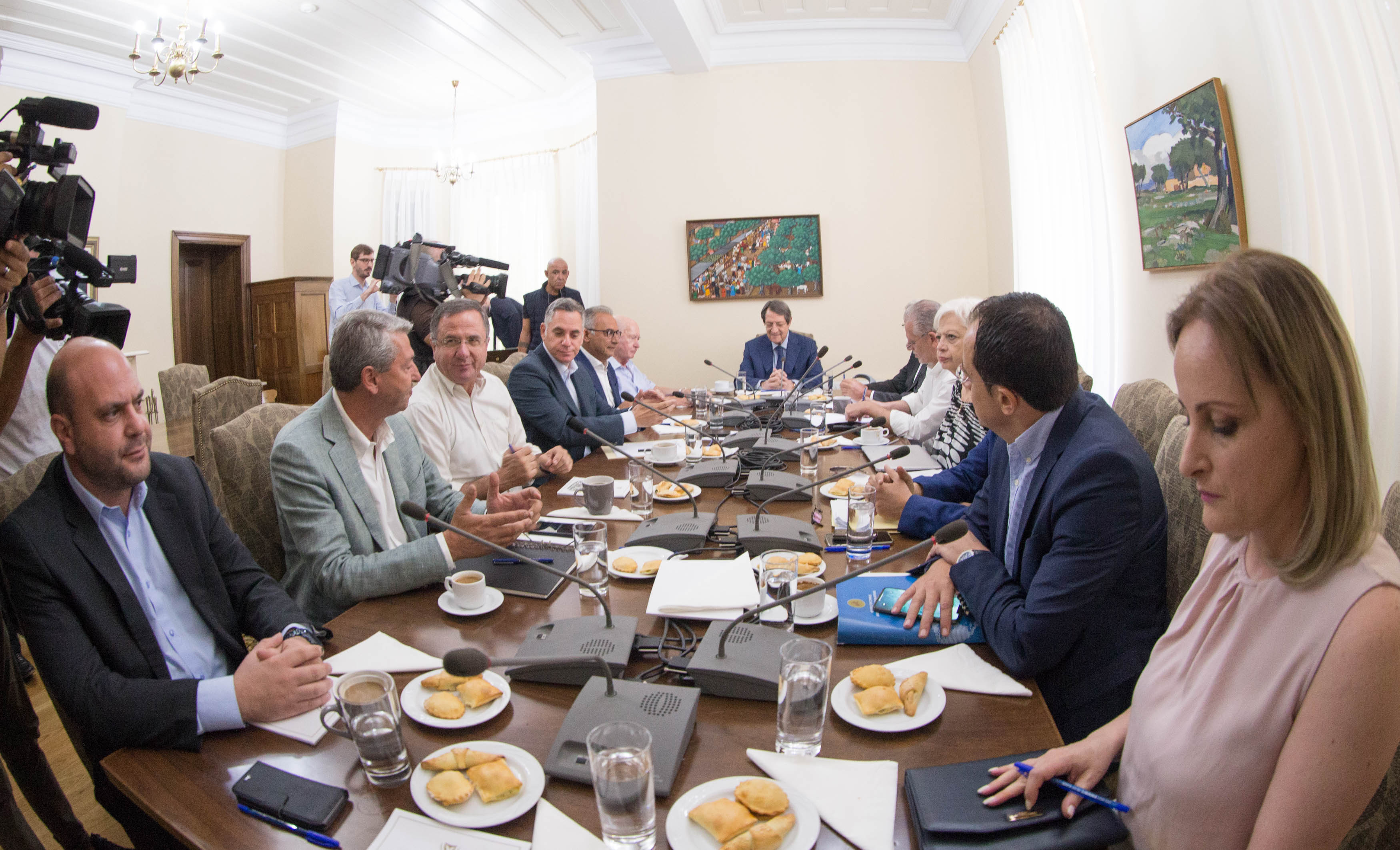 There will be further briefing on what took place
By Michalis Michael
A new convening of the political leaders' council will take place in Cyprus after Cypriot President Nicos Anastasiades meets with Mustafa Akinci on 9 August. Then, Mr. Anastasiades will inform about the outcomes of his meetings and what the next steps will be. The Troodos meeting was followed by statements by the government spokesman Prodromos Prodromou, who stressed the aspirations of the Greek-Cypriot side.
"It is the Greek Cypriot side that is consistently interested and seeking, not only for a solution but also for the relaunching of discussions, after the dead-end they reached in July 2017; it is our side that both has a reason and is actually seeking for a meaningful debate to take place. It is indeed important that the SG and the United Nations have shown a significant interest in the discussions' relaunch, this is our goal; so the President, taking into account all political forces' positions, returns to the base of all UN decisions and resolutions, as well as to the parameters the SG put into force after Crans Montana", he stated.
What DISY-AKEL commented
At the end of the four-hour council, the Cypriot political parties' leaders were mainly focused on what needs to be done during the Anastasiades-Akinci meeting, in order to resume to talks, which is the Cypriot side's main concern.
"Removing the impasse and restarting a conversation within the agreed framework of the Bi-zonal Bicommunal federation (BBF) and of the Guterres parameters remains our top priority", DISY President Averof Neofytou posted on his Twitter account.
"AKEL expects that on August 9, the two leaders will make every effort to slowly build a positive climate that will allow the resumption of negotiations, the end of the Turkish provocations and the creation of conditions that will allow us to see the future with optimism", party secretary general Andros Kyprianou said.
He also added that the meeting with Mustafa Akinci is crucial and decisive on whether the conditions for resuming to substantive negotiations will begin to be created, adding that since 1974 "we have all agreed that the Cyprus issue can only be resolved through negotiations. It is critical that next Friday the appropriate atmosphere will exist in order for meaningful negotiations to be allowed to resume; we the political parties have communicated our views and thoughts to the President"./ibna