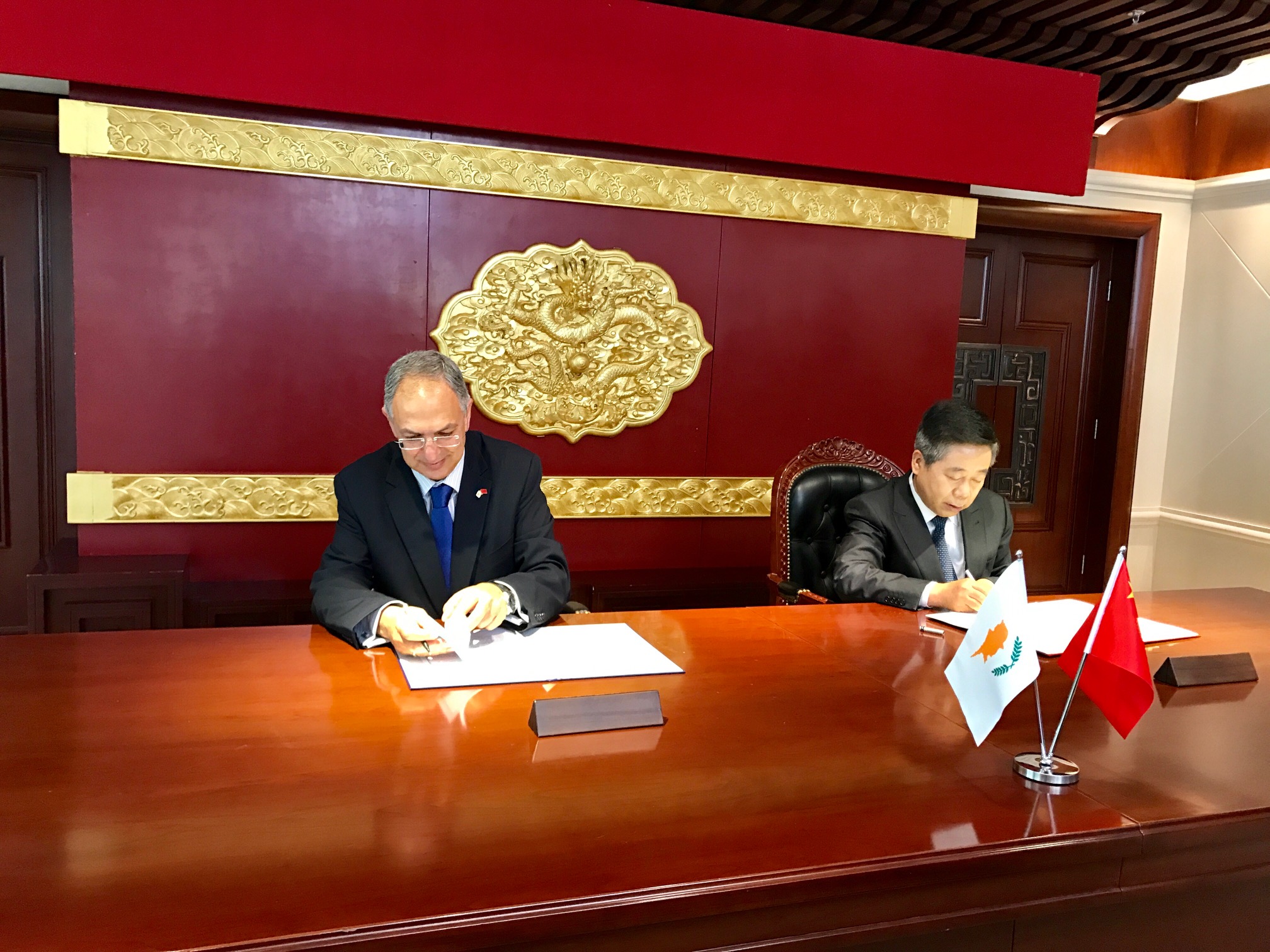 After long and productive consultations, the Minister of Education and Culture of Cyprus, Costas Kadis, and the Minister of Education of the People's Republic of China, Chen Baosheng, signed on 13 May 2017, in Beijing, the Agreement on Mutual Recognition of Higher Education and Qualifications.
Minister Kadis thanked his Chinese counterpart for the firm support of his country to the efforts for finding a just and viable solution to the Cyprus problem. He also expressed his gratitude for representing Cyprus in the international "One Belt, One Road" High Level Forum. The aim of the Chinese "One Belt, One Road" initiative is to revive the ancient silk road. Kadis conveyed Cyprus' firm and strong support to "One United China" policy.
"The Agreement is a catalyst for the enhancement of the cooperation in the field of Higher Education between the two countries", Minister Kadis stated after the signing ceremony. "The Ministry of Education and Culture has set as its priority the further tightening of the educational ties between Cyprus and China, and, therefore, the Agreement constitutes a symbol of the mutual efforts of the two countries to further strengthen their relation in the field of Education".
Finally, Minister Kadis stressed that the Agreement is very important and is expected to enhance the efforts of the Government to turn Cyprus into a regional educational and research center that will attract students from abroad. The importance of the Agreement was also praised by the Chinese Minister.
With this Agreement, Qualifications from the Universities of Cyprus are automatically recognized by China in academic and business level, while, at the same time, the Chinese University Qualifications will be recognized.
On the sidelines of his visit to China, the Minister of Education and Culture also met with the Minister of Culture of the People's Republic of China, Luo Shugang.
At the meeting of the two Ministers, the strong cultural ties of the two countries were reaffirmed and the special importance of the role of the culture in enhancing the bilateral relations and the understanding of the peoples was stressed.
The two Ministers discussed specific ways to expand the cultural cooperation between the two countries. They also referred to the possibilities of implementing specific actions, such as exchanges and hospitality of traditional music groups, participation of artist groups in festivals, as well as cooperation exchanges and programs between cultural authorities of the two countries. The proposal of the Chinese Culture Minister to open a Chinese cultural center in Lefkosia was welcomed with enthusiasm by Minister Kadis./IBNA
Photos: pio.gov.cy