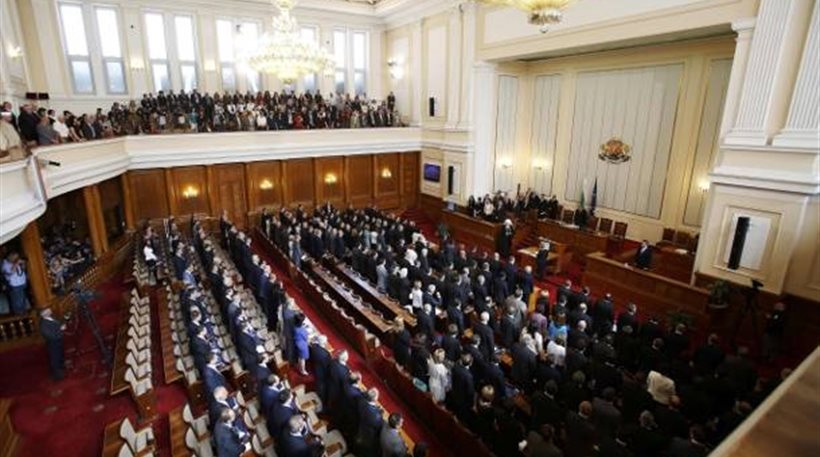 By Clive Leviev – Sawyer of The Sofia Globe
The uncertainty of Bulgaria's political future, as the Bulgarian Socialist Party (BSP) government faces continuing public protests demanding its resignation while there is widespread speculation of early elections in May 2014, is helping to spawn new political formations.
Not that all of them are entirely new – some are splinter groups, some mergers of lesser minority political parties, and the emergence of others still remains in the realm of speculation.
Currently, the axis of parties in power in Bulgaria is made up, in effect, of the BSP, the Movement for Rights and Freedoms – the party led and supported in the main by Bulgarians of ethnic Turkish descent – and Volen Siderov's ultra-nationalists Ataka.
This alliance, at once a new form of the 2005/09 tripartite coalition but also somewhat unconventional in the ambivalent role of Ataka, has ranged against it in Parliament only Boiko Borissov's GERB, the centre-right former ruling party that won the most votes in the May 2013 elections, but not enough to govern alone.
While the current anti-government protests, as of August 27 in their 75th day, are directed mainly against the resignation of the BSP government, a common thread in public discourse this year also has been a rejection of established political parties.
In turn, while some voices in civil society have been demanding some constitutional and electoral system form of greater "citizen participation" in elections, the situation also creates opportunities for those either to present themselves as something new – or seeking to settle political scores.
In a development dating from previous internal problems within Borissov's GERB, a splinter party has emerged made up of those who have fallen out with the former strongman prime minister and with those who have been his closest allies.
The Bulgarian acronym of this splinter party spells out BASTA, apparently an intentional reference to the Italian word for "enough". Those behind it, including a former GERB cabinet minister and former MP, both of whom left the party under a cloud, insist that it represents a rejection of the "totalitarian rule" of Borissov.
The new party has claimed that it will draw away some of Borissov's sitting MPs and will have several hundred people at its founding meeting on September 22, a date chosen because that is Bulgaria's Independence Day. Reportedly, BASTA will have a collective leadership of 11 people.
Given Bulgaria's post-Zhivkov political history, the chances of a splinter party from a current or former ruling party are not good. No such party has been returned to Parliament.
Moves apparently also are being made on the left.
BSP leader Sergei Stanishev, leader of the party since 2002 but who has never managed to lead his party to decisive victory (or in most cases anything but defeat) in a succession of parliamentary, municipal and presidential elections, has successfully manoeuvred more than once to stave off challenges to his leadership.
For Stanishev, who was prime minister in the socialist-led tripartite coalition from 2005 to 2009 but in 2013 decided to hand that job to a placeholder appointee – perhaps because Stanishev, as leader of the EU-wide Party of European Socialists, has ambitions regarding the May 2014 European elections, holding the current government of Bulgaria in place is an essential route to his own political survival.
But once again, two of his political nemeses appear to be on the move.
One is Georgi Purvanov, who was BSP leader before being Bulgaria's President for two successive terms from 2002 to 2012, who while president launched a failed "civic initiative" project and who also launched a failed bid to snatch back the BSP leadership; but for all these apparent failures, remains a powerful force within the party.
The other is Tatiana Doncheva, a veteran socialist MP who long has been something of a strong-minded independent spirit in leftist circles and who also has behind her the founding of a separate grouping.
This time around, according to Bulgarian media reports, Purvanov and Doncheva are working on a new project, to be launched in the autumn of 2013, although it remains unclear whether it would be an alternative party to the BSP or a grouping broadly within it.
A movement that was founded with the insistence that it has a civil society character and is not a fledging political party is Move BG, initiated by former top computer company manager and well-known Bulgarian business person Sasha Bezuhanova.
The initiative, launched earlier in the summer season, is billed as an opportunity for Bulgarians to propose and debate online solutions to Bulgaria's issues. The internet forum is intended for Bulgarians irrespective of their political affiliations.
As previously reported, the Reformist Bloc has emerged on the right-wing of Bulgaria's political spectrum, made up of the current versions of established political parties and relative newcomers, who have in common a following individually insufficient to have won them seats in Parliament but who are seen as having the potential to feature significantly in the next Parliament. The Reformist Bloc currently is insisting that it will do no deals with GERB.
On the fringes, developments in mergers and movements amid minor political parties have been of interest solely to those fascinated by minutiae or the individual constituencies of the parties.
The party of Valeri Simeonov, the owner of ultra-nationalist cable television channel Skat and a former ally of Siderov's Ataka – they are now  bitter foes – has made extremely minor gains through recent mergers.
Simeonov's National Movement for the Salvation of Bulgaria fell short in May 2013 of seats in Parliament, and in August merged with GORD, the party of Slavi Binev – the latter an MEP for Ataka and before than an Ataka candidate for mayor of Sofia, before Binev fell out with Siderov. In a sense, in the merger with Simeonov, Binev has come full circle. Also in August, a month usually bereft of any political news, the NFSB also pulled off a merger with the party named the Middle European Class, the latter established a few years ago and which has an unblemished record of never winning any seats in Parliament.