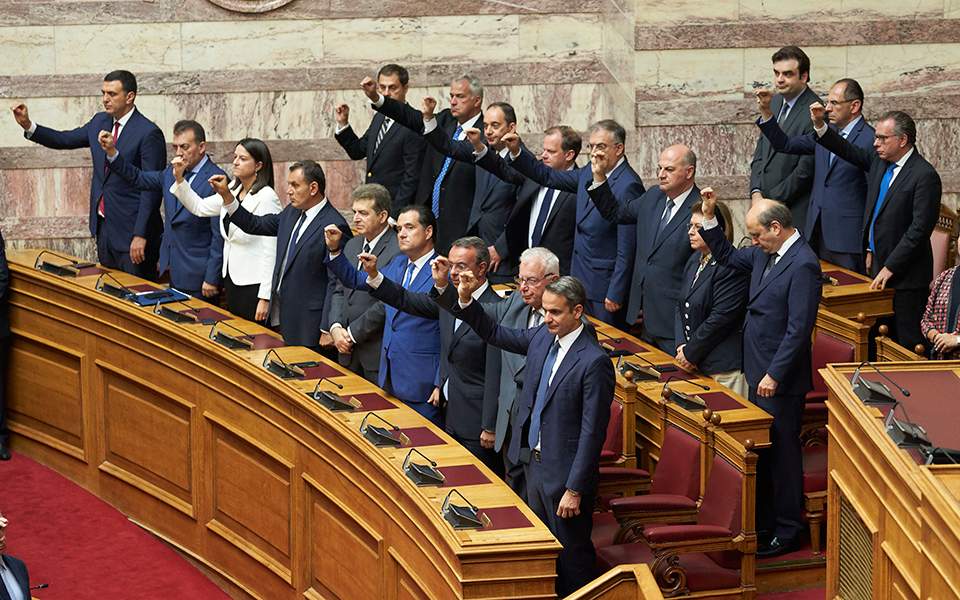 Greece's newly-elected Members of Parliament (MPs) were sworn in on Wednesday. The deputies of six political parties took their seats in the 300-member House for the first time since the 7 July general election.
On Thursday, New Democracy MP Costas Tasoulas will be elected new parliament president, with SYRIZA also expected to endorse his candidacy. Haralambos Athanasiou, Nikitas Kaklamanis and Thanasis Bouras have been selected to become vice presidents by the ruling party, while main opposition SYRIZA will install Dimitris Vitsas as fourth vice-president.
Moreover, a three-day parliamentary debate on the government's program will commence on Saturday. The debate will culminate in a vote of confidence in the government on Monday night. This will be the first clash between Prime Minister Kyriacos Mitsotakis and main opposition leader Alexis Tsipras in parliament since the former won the general election.
During his presentation of the government's plans, Mitsotakis is expected to focus on a "package of reforms" that he hopes will build trust between Athens and international creditors. The PM is not expected to announce any surprise unilateral economic policy decisions; instead he will outline plans to reduce taxation gradually over a period of years, as long as agreed fiscal targets are being met.
The government intends to table a draft bill reforming taxation by 10 August. The legislation will also include pro-growth measures, provisions aiming to attract investment and reforms across State operations.
Meanwhile, the setup of the government and ministries continues to rapidly unfold. On Wednesday, the government announced the appointment of a further 24 General Secretaries who will assume their new duties immediately, taking the total number of General and Special Secretaries appointed this week to 52.
Most of the new General Secretaries have experience working in the private sector and are being involved in politics for the first time, while it is the first time in many years that General Secretaries have been appointed in such a short space of time from an election victory./ibna