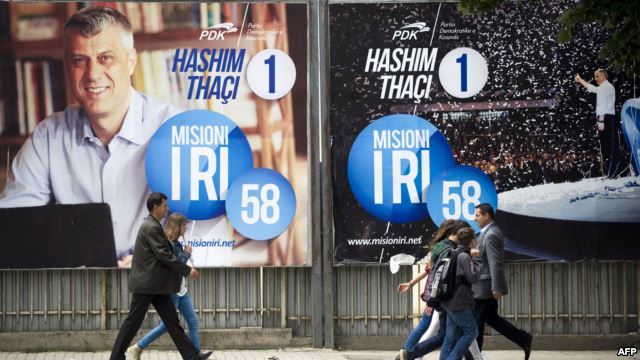 Pristina, June 9, 2014/Independent Balkan News Agency
By Elton Tota
Democratic Party of Kosovo (PDK) with its motto, "New Mission", won the early parliamentary elections held on June 8.
So far, Central Election Commission has counted 95% of ballots and PDK is ranked first with 31,24% of votes, followed by Democratic League of Kosovo (LDK) with 26,12%, "Self Determination" with 13,73%, Alliance for the Future of Kosovo 9,65%, Incentive for Kosovo with 5,36%, New Kosovo Alliance with 4,72% and "Srpska" List with 2,91%.
Leader of PDK, Hashim Thaci has announced the victory of his party, by saying that the New Mission benefits all citizens in order to build a great dream-that of the economic development of Kosovo.
He said that Kosovo must be proud about these elections. "These elections focused on our citizens, where they decided about the state model that they want. They were free and fair elections. These elections were organized in an excellent way, they conveyed a clear message and they had a European aim", declared Thaci.
Thaci said that as of tomorrow, he and his team will start and make the New Mission a reality.
Sunday election was quiet, with minor irregularities, but which didn't damage the process.
Turnout in the polls has been around 43%, while a smaller turnout has been noticed in the north of Kosovo, which is an area predominantly inhabited by the Serb community.
Central Election Commission has praised the June 8 election and thanks all the citizens of the Republic of Kosovo for their contribution.
CEC informs all the citizens that the counting process continues according to procedures.
IBNA news agency learns that there are now two scenarios for the formation of the next government.
Based on the first scenario, Democratic Party of Kosovo will attempt to form a big coalition with Democratic League of Kosovo and minorities. Meanwhile, based on the second scenario, it will try and form a coalition with small parties, Alliance for the Future of Kosovo, Incentive for Kosovo and minorities.
Negotiations for the formation of the government will be difficult due to the fact that the leader of AAK continues to demand the post of prime minister.
Nevertheless, citizens of Kosovo expect functional institutions, fight against corruption, improvement of the economic situation and reduction of unemployment from the new government. /ibna/