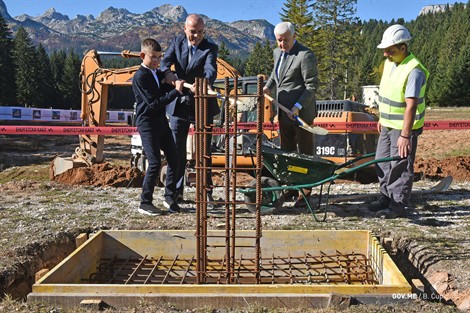 Montenegro Prime Minister Duško Marković, the owner of Durmitor Hotel and Villas Petros Stathis and the president of the Municipality of Žabljak Veselin Vukićević laid today the foundation stone of the Durmitor Hotel in Žabljak, which is being built as part of a EUR 20 million project.
Marković said that this tourist complex would be one of the most beautiful in the region.
"We promised that we would develop the whole of Montenegro and not just the coastline; the Central region would represent us as an elite tourist destination as well. Thanks to the Hotel Durmitor, Žabljak will represent Montenegro as one of the best tourist and investment destinations," Marković noted.
He expressed gratitude and respect to the hotel owner, saying that he understood the Government's plans to develop the Northern Region in a high-quality way and with the highest standards and decided to invest in Žabljak.
"He did a project that we have now seen, which we can be proud of, a project and a whole complex that we will admire and enjoy in the next two and a half years. Mr. Petros thank you, not only for your money and your willingness to invest in such a prestigious facility, but also for your willingness to contribute to Žabljak and the citizens of Žabljak, and with such a project make the whole of Montenegro proud," Marković said.
The Prime Minister pointed out that this hotel will not only be a tourist offer. "This hotel will create new great opportunities, not only for those in the economy, but also for individuals who will be able to find opportunities for themselves based on this potential and resources. There will also be education of better quality. There will also be services of better quality. There will also be infrastructure of better quality. Everything will be different here when this hotel is opened. It will encourage us to perhaps address the issues of old hotels that are closed, as well as the new ones, with a similar offer. I congratulate you, this is a great day for the development of Montenegro, for tourism and tourist offer, but this is a great and unique opportunity for the citizens of Žabljak and I believe that you will be able to use it", Marković emphasised.
President of the Žabljak Municipality, Veselin Vukićević, said that this day is important for Žabljak, noting that the mountain center lacked big hotels and that the new Durmitor Hotel would be a star not only of Northern Montenegro, but also of the region and that it would change the face of Žabljak.
The project involves the construction of a five-star hotel, equipped with all facilities such as a Spa & Wellness Center, a conference room, as well as 12 villas.
The project is worth EUR 20 million. The planning is for the hotel to have 80 to 120 employees, where, according to the owner, the priority in employment will be given to the citizens of Žabljak./ibna