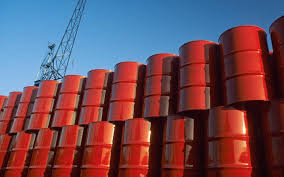 Oil prices are set to rise by the end of the year, through to the end of 2019, according to the Short-Term Energy Outlook compiled by Energy Information Administration (EIA), Official Energy Statistics from the U.S. Government.
Both the Brent and West Texas Intermediate (WTI) price estimates for this year are revised upwards by $1 a barrel, resulting in the price of Brent increasing to $73 / barrel on average in 2018, while WTI is estimated to rise to $67 / barrel.
Meanwhile, both Brent and WTI prices for 2019 were revised upwards by $3 per barrel, which means Brent is expected to reach an average of $ 74 a barrel next year, while WTI is estimated to cost $ 68 per barrel on average.
"Significant reductions in the exchange rates of some emerging markets currencies may have contributed to the growing concern about global economic growth and its potential impact on oil demand," the EIA said in its September report.
According to the report, this comes as "global oil reserves fell by almost 0.4 million barrels per day in August, which was the seventh consecutive month net reserves were down."
At the same time, the EIA revised downwards – by 0.2 million barrels per day – its estimates of crude oil production in the US in 2019.
Crude crude production in the country next year is projected to average 11.5 million barrels a day, compared with 11.7 million barrels per day, in the forecast made last August./IBNA