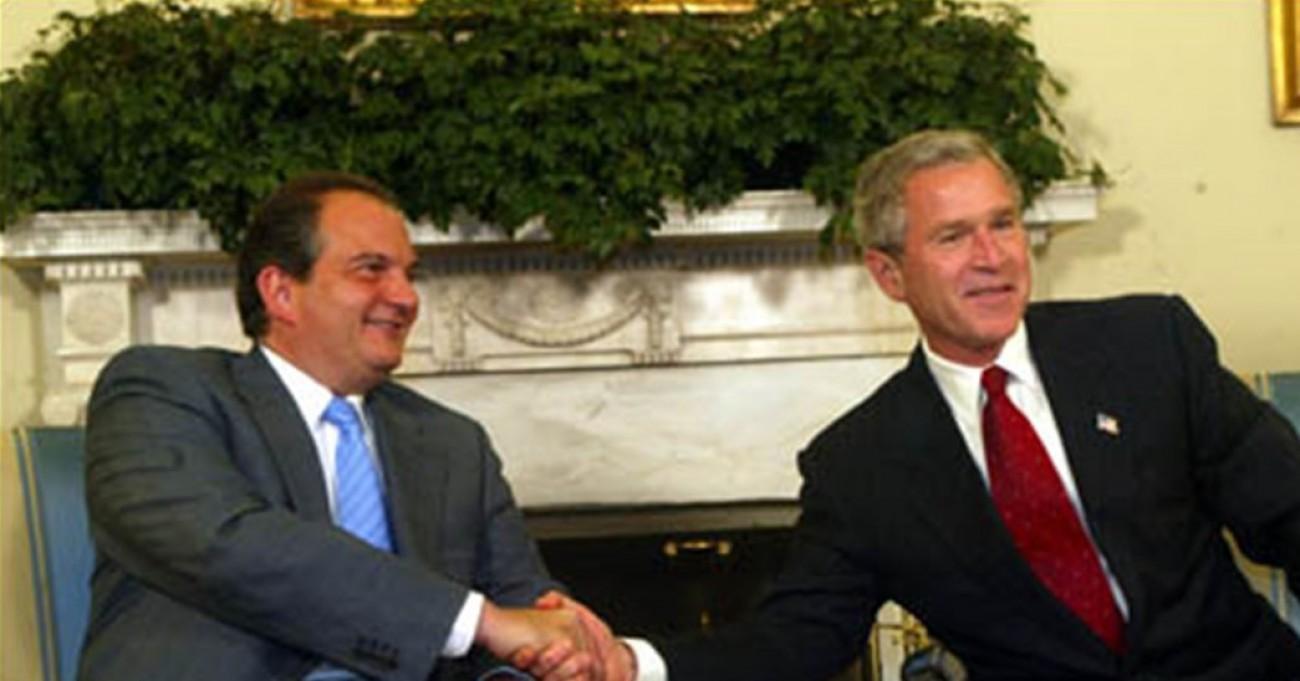 Even European leaders were proposed the dual naming by Karamanlis
6 more letters by the former Prime Minister K. Karamanlis to EU leaders calling them to accept the dual name of "Makedonija-Skopje" and "Makedonija" have now come to light in Greece.
SYRIZA's reaction was intense, with the party spokesman calling Mr. Mitsotakis to apologize to the Greek citizens. "He can neither continue to deceive the Greek people by distorting the truth around the Prespa Agreement, nor go on offending the citizens through his silence," he said.
According to the revelations made by the "Newspaper of Editors", New Democracy's Prime Minister at the time, K. Karamanlis, wrote to the German Chancellor Gerhard Schröder, Spain's Prime Minister José Luis Rodríguez Zapatero and to Luxemburg's Prime Minister and European Council's President Jean Claude Juncker on the 7th, 8th and 9th of April in 2005, asking for the dual name of "Makedonija-Skopje" and "Makedonija" to be accepted.
Corresponding letters were sent by the Foreign Minister at the time Petros Molyviatis to Olli Rehn, EU Commissioner and overseer of the enlargement, Jean Asselborn, Luxembourg's then Foreign Minister, and to Javier Solana, High Representative for the Common Foreign and Security Policy.
The new revelations have become known right after the disclosure of a letter published by Mr Karamanlis, with which he informs the US President Bush that the dual name could be accepted without a constitutional revision, in order for the nomenclature issue of what is today Northern Macedonia to be resolved, and for its accession perspectives to be commenced.
SYRIZA'S attacks against Mitsotakis and Karamanlis intensify
"The letters revealed confirm that this was not a tactical move, as New Democracy claimed, but it was rather their official political position," the spokesman of SYRIZA E. Achtsioglou commented, thus responding to the ex-prime minister's sources who spoke of a tactical move.
A violent attack was launched against New Democracy and its leader by Al. Tsipras, who spoke of "hypocrisy", "national fraud" and "scammers". "Mr. Mitsotakis and the New Democracy executives, who shamelessly pretended to be Macedonian warriors during the rallies and who took advantage of the patriotic sensitivity of our compatriots in Macedonia, what do they have to say today about this great national fraud they have set up against the Greek people? "he stated from his speech in Heraklion, Crete.
"What do they have today to say about this national lie and hypocrisy, about their miserable choice to exorcise a patriotic agreement as a betrayal just to win with more votes?", he wondered. It is noted that so far New Democracy has not officially replied to SYRIZA's questions and revelations, with the exception of sources within K. Karamanlis' environment.
In any case, it is assumed that SYRIZA's full-frontal attack towards Karamanlis' governance but also towards him personally, by weaponizing the infamous deficit, as well as their attitude towards the Macedonian issue, has just begun and will continue all the way to the polls and further on./ibna