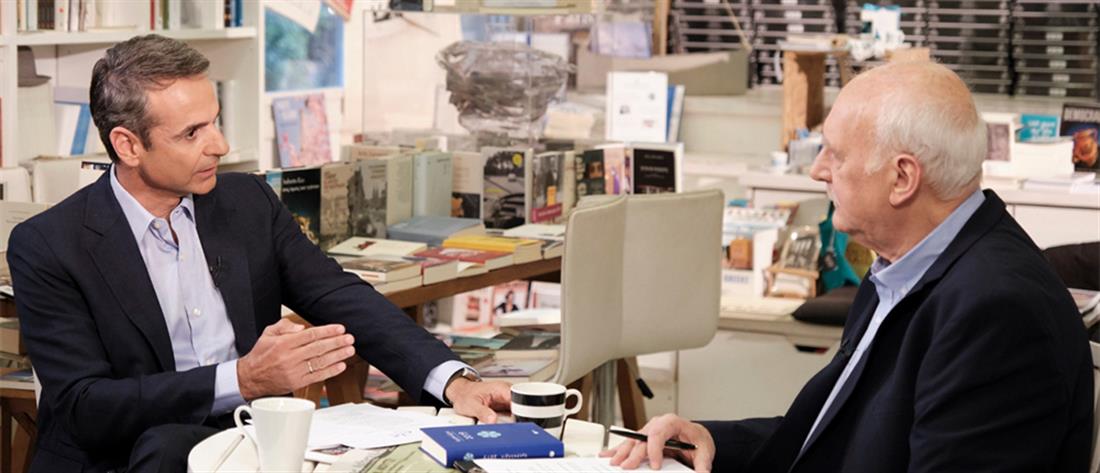 In a wide-ranging interview with ANT1 television, main opposition New Democracy party leader Kyriacos Mitsotakis heralded the tabling of an amendment by his party that will keep the income tax-free threshold at its current level.
The main opposition party leader explained that this is aimed at forcing Prime Minister Alexis Tsipras to prove that he will deliver on a promise not to slash the income tax-free threshold, despite its reduction having already been voted into law on the insistence of Greece's international creditors.
"If Tsipras means what he says then let's go and negotiate the non-reduction of the tax-free threshold together and I'll back it," Mitsotakis said.
Mitsotakis said the amendment will be tabled by New Democracy as soon as the House reconvenes at the end of the Orthodox Easter recess. He went on to challenge the PM to approve the amendment ND will put forward and join him in an effort to convince creditors of the necessity of the measure.
Moreover, the ND party leader said he intends to table a censure motion against Alternate Health Minister Pavlos Polakis as soon as MPs are back in parliament from the Easter break, over the latter's recent attack on ND candidate MEP Stelios Kymbouropoulos.
To remind, Polakis has accused Kymbouropoulos, who is wheelchair-bound, of using affirmative action laws to get appointed to the public sector. In his interview, Mitsotakis spoke of a "moral duty to eventually restore some kind of basic code of values in politics."
It is worth noting that the PM has previously committed to turning any such censure motion into a vote of confidence in his government.
Asked to comment on suggestions a prospective ND government would seek to abolish bonus wage payments in the private sector, the conservative party chief said this is a classic example of SYRIZA spreading "fake news", making clear he has no such intention.
In response to Mitsotakis's interview, the PM's Office issued a Press Release today attacking the ND leader. The PM's Office points out that Kyriacos Mitsotakis is a well-known proponent of IMF-sponsored neoliberal policies, including the abolition of wage bonus payments, extending the 8-hour working day and deregulating social security and labor relations.
"…He rushed to herald an amendment for its abolition after the Prime Minister's interview. [He] will soon be in the difficult position of voting in favor of the Prime Minister's choices and measures [supporting society]", the release added./ibna