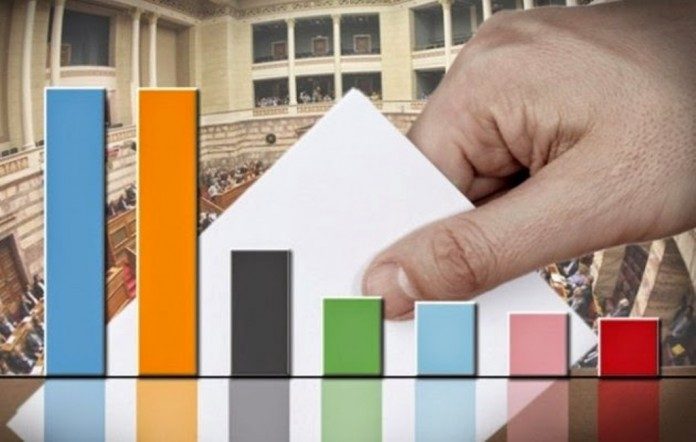 The Political Barometer survey conducted by pollster Public Issue puts New Democracy in the lead over SYRIZA with 37% over 21.5%. The central-left Movement for Change is in third place with 13% followed by Golden Dawn on 8% and the Communist Party (KKE) on 7.5%.
The Union of Centrists came in at 2.5% with Independent Greeks (ANEL) on 2%.
In the scenario of a 5-party parliament, Public Issue estimates that New Democracy will have 148-165 MPs, with SYRIZA on 53-70, followed by the Movement for Change with 30-44 MPs, Golden Dawn with 19-28 MPs and KKE with 17.26 MPs.
It is noted that the survey was conducted before the rally in Thessaloniki protesting the use of the term Macedonia in the new name of FYROM, which is currently being discussed between the governments of the two countries in UN-brokered talks.
Based on the Political Barometer, analysts make the following observations:
In the last quarter of 2017, SYRIZA's political influence has increased by 2.5 percentage points (from 19% to 21.5%). The recent distribution of a "social dividend" is thought to have contributed to this rise to a certain extent. A total of 20% of Greek households (1 in 5) received the "social dividend".
Conversely, New Democracy's political influence during the same period is down by 4 percentage points, bringing the party below 40% for the first time since the summer of 2016.
The 15.5% difference between the two parties is the largest recorded in a poll since 1974.
New Democracy saw the gap separating it from SYRIZA drop gradually from 24% in October 2016 to 22% in October 2017.
The balance of power reflected in the findings of the Public Issue poll point to a similar result to the September 2015 election in reverse. The most significant difference, however, is the apparent comeback of PASOK which has bounced back to 2012 levels.
New Democracy is closer to winning an absolute majority in parliament, however, this scenario has become less likely in the last 3 months./IBNA