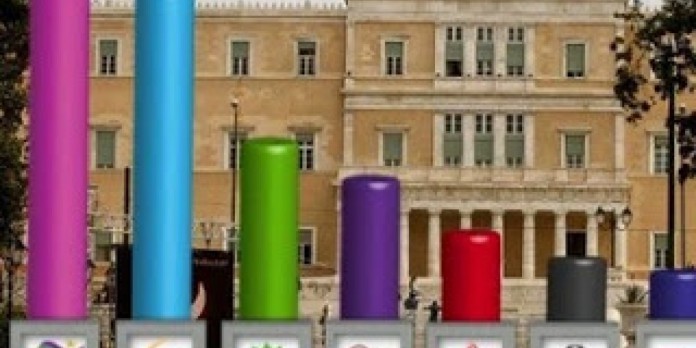 Ruling New Democracy (ND) enjoys a double digit lead over main opposition SYRIZA in the latest opinion poll conducted by MRB.
More specifically, ND takes 36.8 percent with SYRIZA on 24.5 percent, followed by the Movement for Change (KINAL) on 7.7 percent, the Communist Party on 5.5 percent, the Greek Solution Party on 4.3 percent and DiEM25 on 3.2 percent.
The survey, which was administered between 27 November and 5 December, shows the conservatives leading left-wing SYRIZA by 12.3 percentage points, while if a general election was called now, 61.2 percent of respondents believe the ruling party would win, against the 19.1 percent that believe SYRIZA would come first.
On the question of who would make a better prime minister, 40.9 percent chose the incumbent Kyriakos Mitsotakis, while SYRIZA leader Alexis Tsipras got 29.1 percent.
The survey also shows the vast majority of respondents (57.4 percent) prefer the current government sees out its 4-year term before another general election is called, while 64.3 percent believe a vote will take place near the end of the government's term.
Amid rising tension in the eastern Mediterranean and Greece's relations with neighboring Turkey, 59.2 percent of respondents said they thought an "incident" between the two countries is likely, with 7 in 10 believing the situation surrounding national issues will take a turn for the worse.
In terms of what is considered to be the biggest challenge for the country's government, 52 percent said unemployment, 40 percent said the refugee crisis, 33.6 percent said health, 33.4 percent said the tax system and 30 percent said growth.
Asked about their preference for the role of President of the Hellenic Republic, 44.8 percent showed support for incumbent Prokopis Pavlopoulos, with 41.1 percent opting for a different candidate.
Prime Minister Kyriacos Mitsotakis is expected to announce a presidential candidate early next year. The names of Costas Karamanlis (26 percent), Antonis Samaras (11.2 percent), Dora Bakoyannis (8 percent), Evangelos Venizelos (5.9 percent) and Maria Damanakis (4 percent) are mentioned by respondents as possible successors.
Finally, Citizen's Protection Minister Michalis Chrysochoidis (33.5 percent) was the most popular member of the cabinet, followed by Foreign Minister Nikos Dendias (31.1 percent), Health Minister Vasilis Kikilias (30.7 percent), Interior Minister Takis Theodorikakos (28.7 percent), Development Minister Adonis Georgiadis (28.1 percent) and Finance Minister Christos Staikouras (28 percent)./ibna